By Evan Buxbaum
CNN





(CNN) -- Harvard University, one of America's premiere academic institutions, is coming under fire for running an advertisement in its campus newspaper questioning the reality of the Holocaust.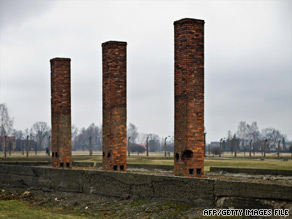 The former Birkenau death camp in Poland. It is widely accepted that about 5.7 million Jews died in the Holocaust.
Recently named for the second straight year as the No. 1 school in U.S. News & World Report rankings of American colleges, Harvard is known for its rigorous scholarly standards and prestigious reputation.
On Tuesday, however, The Harvard Crimson, in what it said was an error, ran the Holocaust-questioning advertisement, which had been rejected by the paper over the summer.
In response to the commotion created by the ad, Crimson President Maxwell L. Child released a statement Wednesday citing three weeks of summer vacation between the submission of the advertisement and the publication of the paper as the explanation for why the ad "fell through the cracks."
"We want to stress that we do not endorse the views put forth in any advertisement that runs in The Crimson, and this case was no different," Child said in a letter to Crimson readers. "We will work hard to avoid such lapses in communication in the future, and hope our readers will accept that yesterday's error was a logistical failure and not a philosophical one."
The ad, paid for by Holocaust denier Bradley R. Smith and his Committee for Open Debate on the Holocaust, primarily raises questions about then-Gen. Dwight Eisenhower's account of World War II and the existence of Nazi gas chambers.
It is widely accepted that approximately 5.7 million of Europe's 7.3 million Jews perished during the war. In total, historians say, between 11 million and 17 million people were killed by the Nazi regime, including religious and political opponents, ethnic Poles, Romani, Jehovah's Witnesses, Soviet civilians and prisoners of war, homosexuals and people with disabilities.
Smith said he is not surprised by the reaction because "it's taboo, and has been taboo from the beginning. When you break a culture-wide taboo, supported in theory and practice by the state, the university and the press, you create a fuss."
Smith said that he made the deal with the Crimson in July, but was never made aware of any plan by the newspaper to cancel his ad. While he has not yet received a refund for his pulled notice, he said he expects the paper to "do the right thing about the money."
Bernie Steinberg, president and director of Harvard Hillel, a Jewish campus organization, said on Wednesday that the advertisement was "obviously a shock to see."
But the group's students reacted appropriately, he said, and the incident should be seen as an example of "extraordinary mature student leadership in response to an unfortunate situation."
The Crimson was very responsive after many people in the Harvard community, including numerous members of Harvard Hillel, contacted the paper expressing their concerns, he said.
Harvard Hillel's student president, Rebecca Gillette, circulated a letter saying she thought the situation was being appropriately addressed. "The fact that organizations and individuals like that publicized in this advertisement still exist today is frightening and disturbing, but unfortunately it seems that Holocaust denial will persist for years to come," she said.
Robert Trestan, civil rights counsel for the Anti-Defamation League of New England, said Smith and his organization have placed ads in approximately 15 college papers around the country so far this year. He said he finds it shocking that such an advertisement would fall through the cracks, as Child said.
"Would an ad that questions whether the world was flat or that slavery never happened in America have fallen through the cracks?" he asked.
He said his organization will continue to work with college newspaper editors to educate schools that they don't have an obligation to publish questionable advertising.
Al Tompkins, a faculty member at the Poynter Institute, billed on its Web site as "a school for journalists, future journalists, and teachers of journalism," said he hopes this will become a "teachable moment."
"It seems to be a big mistake and obviously nothing meant to offend anyone," he said. Because student publications are meant to be teaching tools, "the key is not to not make mistakes, the key is how they respond to mistakes in a forthcoming and transparent manner," he said.
He recommended that the Crimson return any money associated with the advertisement.
Child's statement in the Crimson said that was being done.
E-mail to a friend

All About The Holocaust • Harvard Crimson