By Saeed Ahmed
CNN





(CNN) -- It's 09/09/09.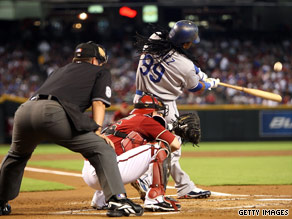 Celebrate 9/9/09 by watching L.A. Dodgers number 99 Manny Ramirez Wednesday night in Arizona.
And though the date lacks the pizzazz of the lucky sevens (07/07/07), that isn't stopping marketers, mathematicians and the marriage-minded from dressing it to the nines.
Hotels are offering discounts, couples are wedding in droves and "9/9/09" was among the top 100 search terms on the search engine Google on Tuesday.
Lottery users will undoubtedly try their luck by playing 999 Wednesday, and a lucky mother might see herself profiled on the news should she give birth at just the right time: 9:09.
So why not get in on the act?
After all, you're unlikely to experience another single-digit date in your lifetime. The next one won't roll around for 92 years -- until 1/1/2101.
Going to the chapel, gonna get married
In China, more than 10,000 couples were expected to register their marriages in Beijing on Wednesday and 6,000 more couples were set to tie the knot in Shanghai -- even though it's a weekday, said the Xinhua news agency.
In Malaysia, more than 500 ethnic Chinese couples married at a Buddhist temple in Kuala Lumpur.
That's because Chinese culture considers the number nine auspicious. In major Chinese dialects, the word for "nine" sounds similar to "longlasting."
Marriage also will be on the mind of many around the world who hope the date will translate to a life on cloud nine.
The Registry of Marriages in Singapore had more than 364 couples signed up to marry Wednesday, says The Straits Times newspaper. The average is 64.
Ditto for Australia. The state of Queensland has reported a threefold increase in the number of couples tying the knot.
"It's as simple as having a wedding anniversary that you can never forget," the registrar-general Helen Lucas told the broadcaster ABC.
Needless to say, the so-called marriage capital of the world -- Las Vegas, Nevada -- isn't about to let such an opportunity pass it by.
The Stratosphere is among several hotels and casinos offering quickie weddings. It is angling to marry off 99 couples at 9:09 p.m. for -- what else -- $99.09.
Hotels hope you book it!
Several hotels are offering special deals, tied to the date. The truth is that September is a slow time for the travel industry and any gimmick will do.
Hotels.com has been running a nine-day sale leading up to Wednesday, for rooms priced $99 or less.
Mathemagic
Those who like to play with numbers will have a field day on 09/09/09.
The date falls on a Wednesday in September, both of which have 9 letters.
September 9 also is the 252nd day of the year. 2+5+2
In addition, if you multiply a single-digit number by 9, the resulting two digits add up to 9. Consider: 8x9
Take me out to the ballgame
More than most, baseball is a game steeped in nines: nine players on the field at one time, nine innings, 90 feet between bases and nine strikes per inning.
You can celebrate by going to one of 15 games that Major League Baseball has on tap on Wednesday. Or you can commemorate along with MLB.com, which is inviting fans to vote for each team's best players, by season and position, in the All-Time 9s.
Tweet away ...
Republicans are asking Twitter users to log on at 9 p.m. ET for what is being billed as the "largest Twitter tea party ever."
... or take in a movie
The Tim Burton-produced sci-fi flick "9" comes out Wednesday, the 9th. It's a story about hand-stitched robots that battle to survive in a post-apocalyptic world. How many robots? Nine.
Nine lives? Not today
The humor Web site URLesque has declared a one-day ban on all cat-related videos and stories on 09/09/09. The site doesn't specifically say so, but we suspect it has to do with feline luck running out after nine lives.
"Why only one day?" the Web site asks. "Well let's be honest, that's probably only as long as we'll last before a hilarious video comes crashing into our inbox."
A day in the life
An Internet project led by 25-year-old student Matthias Kluckert in Germany is soliciting stories from around the world Wednesday -- to capture an ordinary day on Earth experienced by people across cultures.
The project, "A Day on the Planet," hopes to collect the best stories and eventually publish them in eight languages.
Why 09/09/09?
"Because it is a date that is so easy to remember," the organizers said.
Speaking of the Beatles ...
It is a big day for the Beatles.
The group's entire music collection comes out digitally mastered.

And anticipation is at fever pitch for the video game, "The Beatles: Rock Band," set to launch Wednesday.

Watch what you get with "The Beatles: Rock Band" »
The date is perhaps a nod to the group's psychedelic hodgepodge "Revolution 9," on which a man's voice repeatedly intones: "Number nine, number nine, number nine."
E-mail to a friend