(CNN) -- A motorized parachute crashed into a crowd at a Labor Day festival in Hooper, Utah, injuring at least six people, including children, authorities said.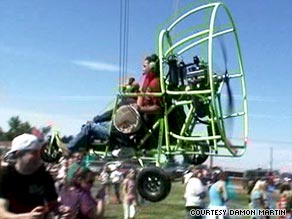 Spectators scatter as a motorized parachute plummets Monday in Hooper, Utah.
The parachute was operated by a man and his son who were on the aircraft, but neither was injured when it dropped to the ground amid spectators.
Scores of people had gathered Monday for what was to have been a candy drop from the motorized parachute, according to Lt. Lonnie Eskelson of the Weber County, Utah, Sheriff's Department. Video from the incident showed the small craft in the air, approaching the crowd, when it quickly lost altitude and came down as spectators ran for safety.
Spectator Damon Martin said the crowd was waiting for the scheduled candy drop when the wind picked up.

Watch vehicle slam into crowd »
The motorized parachute "gets just over the field, they start dropping the candy and all of a sudden he starts to descend real quick. He guns it to get it back up and goes straight down into the crowd," said Martin, who shot video of the incident.
The crowd parted "like the Red Sea, but they just couldn't move fast enough," he said.
Six people were taken to area hospitals, including two sisters, 4 and 5 years old, authorities said.

The 5-year-old was being treated Monday night at Primary Children's Medical Center in Salt Lake City, Utah, for a leg fracture, Eskelson said, while her sister was treated and released. A 3-year-old also was being treated at the center Monday night.
The other injured spectators were treated and released, Eskelson said.
E-mail to a friend

CNN's Amanda O'Donnell contributed to this report.
All About Utah