LOS ANGELES, California (CNN) -- Firefighters battling a massive blaze north of Los Angeles have stopped the fire from spreading while increasing the percentage of containment, officials said Monday.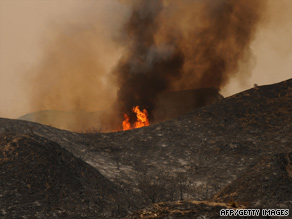 The U.S. Forest Service expects to have the fire fully contained by September 15.
The Station fire has scorched about 157,220 acres, making it the 10th largest wildfire in California since 1932. As of Monday, the acreage burned remained unchanged, while the fire was at 56 percent containment.
"We have not turned the corner yet," said Mike Dietrich, incident commander for the U.S. Forest Service. "However, the turn signal is on."
The entire western perimeter of the fire, toward the town of Acton, is officially contained, he said.

Watch more about the fire response »
Some burning operations are planned as part of firefighting efforts, and some nearby communities might see smoke from those operations, officials said.
Authorities said last week the fire was caused by arson. A homicide investigation has been initiated into the deaths of two firefighters, who died in a vehicle crash while attempting to flee the fast-moving flames.

Watch a report about the arson investigation »
The fire has destroyed 78 homes and two commercial buildings, along with 86 outbuildings, said Mike Bryant, deputy fire chief for the Los Angeles County Fire Department. But, he noted, the blaze had threatened about 10,000 homes and 500 businesses. "It's an unbelievable job the firefighters have done."
Don't Miss
The southern portion of the Angeles National Forest remains closed until further notice. Residents of the foothill communities along the San Gabriel mountains have said wildlife have fled the forest because of the fire, said forest supervisor Jody Noiren. These may include skunks, opossums, raccoons and even larger animals like mountain lions, she said.
Noiren asked residents to keep in mind that the Station fire is the largest blaze ever to affect the mountains, and that 72 percent of open space in Los Angeles County is the national forest. "The animals up there, they have no place to go," she said.

But the animals are hungry and thirsty, and in some cases may be injured, she said. Residents who see wildlife are asked to call their local authorities to deal with the animals, she said.
The fire is expected to be fully contained by September 15.
E-mail to a friend

All About Wildfires • Angeles National Forest • Los Angeles County