LOS ANGELES, California (CNN) -- A fire north of Los Angeles is 49 percent contained and is moving east in the San Gabriel Wilderness area, a U.S. Forest Service spokesman said Saturday.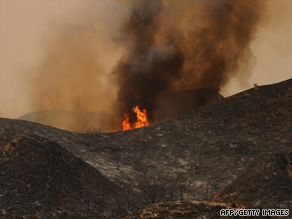 The U.S. Forest Service expects to have the fire fully contained by September 15.
Bruce Quintelier told CNN that "per the incident commander, we're turning a corner on this thing."
Weather conditions -- low temperatures and higher humidity -- have helped firefighters battling the blaze, he said.
And CNN meteorologist Jacqui Jeras said weather conditions over Labor Day weekend will be a boon for firefighters battling the blaze.
"We have been looking at moisture that's been in the area earlier in the week," Jeras said Saturday. "We are going to see the change over the next couple of days. It's really going to help."
A cold front moving in from the Pacific Northwest will be favorable for fire-swept southern California, Jaris said. "You'll see a return to the marine layer, a return to increased humidity and it's really going to make the difference."
The low temperatures and higher humidity -- which began to have an effect earlier this week -- have helped firefighters, Quintelier said.
"We're looking at pretty mild weather for the next day or two," he said, but added that gusty winds may occur, "so that's still a point of concern."
The fire, which has scorched 154,655 acres and killed two firefighters, began on August 26 and has destroyed 76 homes.

Authorities said earlier this week that the fire was caused by arson. A homicide investigation has been initiated by the Los Angeles County Sheriff's Department into the deaths of the two firefighters, who were killed Sunday.

See where authorities believe the fire started »
Authorities estimate that the fire will be fully contained on September 15.
E-mail to a friend

All About California • Wildfires • USDA Forest Service