NEW YORK (CNN) -- Americans will soon observe the eighth anniversary of the September 11 terrorist attacks, and although there have been no similar attacks since, people can't afford to become complacent, the official in charge of national safety warns.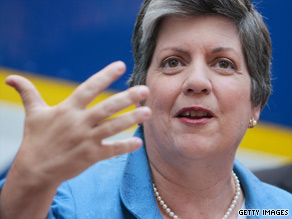 Homeland Security Secretary Janet Napolitano speaks at a news conference on preparedness Wednesday.
"Complacency is one of the things we continue to fight," Secretary of Homeland Security Janet Napolitano told CNN on Wednesday.
Her comments came after the Port Authority of New York and New Jersey announced that two security guards on the George Washington Bridge had been fired after being photographed sleeping at work.
A bicycle tour operator who commutes daily over the bridge from New Jersey to New York snapped photos of the two guards on different occasions, and the images were published on a New Jersey local news Web site, cliffviewpilot.com.

Watch a report on the guards »
"Catching those lapses is an important reminder that none of us can be asleep on the job," Napolitano said. "Security ... safety is something that we all have a responsibility for."
She said security personnel within the Protective Service, which guards federal buildings, were given new training after there were some similar lapses.
"It's been a number of years since 9/11, and people get complacent over time. Being prepared allows us to reduce the level of fear in this country, and we want to do that."
The photos of the George Washington Bridge guards were snapped by commuter Joey Lepore.
"If there's two people on this bridge who don't care about my safety and the safety of anybody who comes over this bridge, then I really don't have an obligation to withhold what I have," he said about his decision to make the photos public.
Given the George Washington Bridge's iconic status and huge traffic volume, officials have long cited it as a potential terrorist target.
The sleeping guards were employees of FJC Security, a contractor used by the Port Authority, which operates all bridges leading into Manhattan.

The Port Authority sought to assure commuters it views security as an issue of utmost importance, and urged people to report holes they notice in its defenses.
More than 2,700 people were killed September 11, 2001, when hijackers crashed two commercial planes into the World Trade Center in New York City. More than 200 other people died in crashes at the Pentagon in Washington, D.C., and a field near Shanksville, Pennsylvania.
E-mail to a friend

CNN's Liz Kennedy and Maria Boynton, and CNN's Jason Kessler contributed to this report.
All About September 11 Attacks • George Washington Bridge • Port Authority of New York and New Jersey