By Paul Steinhauser
CNN Deputy Political Director





WASHINGTON (CNN) -- Nearly 9 in 10 Americans say the country's still in a recession, according to a new national poll.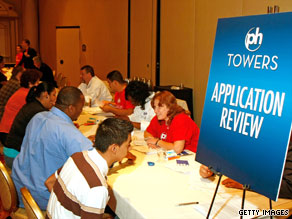 Job fairs and tables full of applicants have become a familiar sight during the U.S. recession.
Eighty-seven percent of people questioned in a CNN/Opinion Research Corporation survey released Thursday morning say the nation's in a serious, moderate or mild recession, and nearly 7 in 10 say things are going badly in the country today.
"Economists may be speculating that the recession is over, but don't tell that to the American public," says CNN Polling Director Keating Holland.
"The good news -- if you can call it good news -- is that the number who say things are going badly has been dropping steadily since last fall -- from an all-time high of 83 percent in November to 77 percent in April and 69 percent now." Read the full poll results (PDF)
The survey also suggests another positive sign: The number of Americans who say the country's in a serious recession has also dropped a bit, from 42 percent in May to 36 percent.
And while the economy's still the top issue on the mind of Americans, the poll indicates it's dropping in importance. Forty-one percent of those questioned say the economy is the most important issue, down 10 points from June and a drop of 22 points from March.
Don't Miss
The Republicans still get more blame than Democrats for the country's economic problems, but that figure's down from 53 percent in May to 41 percent now. Twenty-seven percent say the Democrats are more responsible for the economy, up 6 percentage points from May.
According to the poll, 52 percent support President Obama's economic plan, down from 65 percent in March. Fifty-five percent think the Cash for Clunkers program was a success, but less than 4 in 10 say Obama's economic program has improved the economic conditions so far.
"Liberals and moderates tend to think that Obama's program has helped the economy," says Holland. "But most conservatives think it has made economic conditions worse."
The CNN/Opinion Research Corporation poll was conducted August 28-31, with 1,010 adult Americans questioned by telephone. The survey's overall sampling error is plus or minus 3 percentage points.
E-mail to a friend

All About U.S. National Economy • Barack Obama