From Paul Courson
CNN





WASHINGTON (CNN) -- Pennsylvania landowners around the September 11, 2001, crash site of Flight 93 have reached an agreement with the federal government allowing construction of a permanent memorial there, the government announced Monday.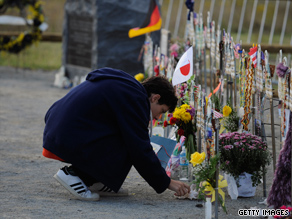 Family members take part in a memorial service for Flight 93 on September 11, 2008, in Shanksville, Pennsylvania.
U.S. Interior Secretary Ken Salazar said the National Park Service has "reached agreements with all the landowners needed" to establish the permanent memorial for the 40 people killed in the terrorist hijacking nearly eight years ago.
Salazar said the government will pay the landowners approximately $9.5 million.
One of several airliners hijacked on September 11, 2001, by terrorists who intended to use them as flying bombs, United Airlines Flight 93 went down near Shanksville, in western Pennsylvania.
Salazar described the negotiations as cordial, with landowners wanting "to walk away saying we've done it for the right reasons."
A National Park Service Web site says the permanent memorial will honor "the 40 passengers and crew members whose actions thwarted an attack on our nation's capital" as they fought to regain control of the hijacked jetliner. Authorities believe the hijackers meant to crash the plane into either the White House or the Capitol.
Architects have already sketched out the design, whose features will be situated to take advantage of a natural basin in the terrain.
A Park Service official expects construction to begin in November.
The announcement of an agreement with property owners around the crash site will not immediately change the public's ability to visit the location, according to Park Service site supervisor Joanne Hanley.
"Nobody has access to the crash site," she told CNN, "and although you will be able to see the construction, it will be from the temporary viewing area."
Soon after the crash in 2001, local volunteers established an overlook from a hillside in cooperation with private property owners and the Park Service, which continues to provide support for visitors.
Many of those who have come to pay respects have left memorial objects at the temporary site that are then cataloged and stored. Hanley told CNN Monday the Flight 93 National Memorial Collection now holds more than 25,000 objects.
Lisa Linden, spokeswoman for the Families of Flight 93, issued a statement welcoming the agreement and saying that "we are on track for the dedication of a substantial permanent memorial to the heroes of Flight 93 on the tenth anniversary of the events of 9/11."
E-mail to a friend

All About Shanksville • Terrorism • September 11 Attacks