By Chandra S. Bhatnagar
Special to CNN





Editor's note: Chandra Bhatnagar is a staff attorney with the American Civil Liberties Union's Human Rights Program and principal author of "The Persistence of Racial and Ethnic Profiling in the United States," recently submitted to the U.N. Committee on the Elimination of Racial Discrimination.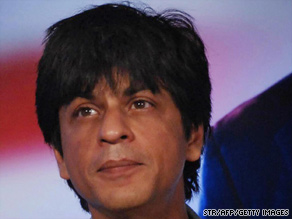 Bollywood actor Shahrukh Khan was detained by authorities at the Newark, New Jersey, airport.
(CNN) -- Earlier this month, one of the biggest movie stars in the world was flying from Newark, New Jersey, to Chicago, Illinois, when he was allegedly pulled out of a security line and questioned and detained for over 1½ hours, apparently because of his Muslim name.
Bollywood megastar Shahrukh Khan is adored around the world, with an estimated fan base of 3.5 billion people. His fame merited a wax figure at Madam Tussauds in London, England.
Khan had come to the United States to participate in Indian Independence Day events in Chicago.
What is significant about Khan's experience is not simply that it happened. Indeed, prominent Indian travelers including former Indian president Abdul Kalam and Indian Nobel laureate Amartya Sen have also been victims of racial profiling at airports, and countless other Indian and other South Asian travelers (be they Muslim, Hindu, Sikh, or Christian) have been subjected to similar forms of profiling and scrutiny.
What makes Khan's case particularly stinging, however, is that he had just completed filming "My Name is Khan," a movie that deals with discrimination against Muslims in the United States in the post-9/11 environment. Yet, there he was, a famous movie star, experiencing a poignant example of life imitating art imitating life.
Internationally, and particularly in India, the Shahrukh Khan incident has generated a lot of attention and anger. Khan is a symbol of Indian national pride. The indignity he suffered is emblematic of the insults faced by countless other Indian and South Asian travelers, and has led to demonstrations and burnings of U.S. flags in protest.
However, the Khan case provides a chance for American society to re-examine the breadth and depth of racial profiling, its impact on minority communities in the United States, and its harm to America's reputation around the world.
Recently, the ACLU and the Rights Working Group released a report that compiled data and anecdotal information from across the United States and showed that authorities continue to investigate, stop, frisk or search racial minorities based upon subjective identity-based characteristics, rather than identifiable evidence of illegal activity.
The report found that the practice of racial profiling by members of law enforcement at the federal, state and local levels remains a widespread and pervasive problem, affecting the lives of millions of people in African-American, Asian, Latino, South Asian, Arab and Muslim communities. The report also illustrated that victims continue to be racially or ethnically profiled while they work, drive, shop, pray, travel and stand on the street.
Democratic and Republican administrations have criticized racial profiling. Former President George W. Bush described the practice as wrong, former Attorney General John Ashcroft called it unconstitutional and current Attorney General Eric Holder said profiling was "simply not good law enforcement." Despite the bipartisan rhetoric, however, this unjustifiable and unconstitutional practice persists.
Moreover, racial profiling is a clear violation of human rights and of the obligations of the United States to uphold the International Convention on the Elimination of All Forms of Racial Discrimination, the major international treaty dealing with racial discrimination, which the United States ratified 15 years ago. This month in Geneva, Switzerland, the U.S. government's record on racial profiling is being reviewed by the U.N. Committee on the Elimination of Racial Discrimination, the body that oversees compliance with the convention on racial discrimination.
In the near future, Rep. John Conyers, D-Michigan, and Sen. Russ Feingold, D-Wisconsin, will introduce legislation designed to end profiling. The End Racial Profiling Act would not only compel all law enforcement agencies to ban racial profiling, it also would create and apply anti-profiling procedures, document data on stop/search/arrest activities by race and gender and create a remedy for victims of profiling to defend their rights.
The legislation is an extremely important step toward promoting equality and human rights for all people in the United States.
In the coming months, the Obama administration and Congress have a historic opportunity to take urgent, direct and forceful action to rid the nation of the scourge of racial and ethnic profiling and bring the United States into compliance with the Constitution and international human rights obligations.
The passage of the racial profiling act would send a strong signal that we, as a society, believe that people should not be scrutinized by law enforcement simply because of their last name, their faith, or their racial, ethnic or national origin.
President Obama recently said, "There's a long history in this country of African-Americans and Latinos being stopped by law enforcement disproportionately. That's just a fact." The president is correct about the historic problem of racial profiling being "a fact" and it is high time that our leaders in government pass legislation so that the civil and human rights, not just of famous movie stars or prominent professors, but of all members of minority communities, are respected.
The opinions expressed in this commentary are solely those of Chandra S. Bhatnagar.
E-mail to a friend

All About Barack Obama • India • Racial Issues