By Barbara Starr
CNN Pentagon Correspondent





WASHINGTON (CNN) -- The U.S. military in Afghanistan may be rethinking its so-called "golden hour" policy of evacuating wounded troops off the battlefield to major trauma centers within 60 minutes of being injured, an official said Wednesday.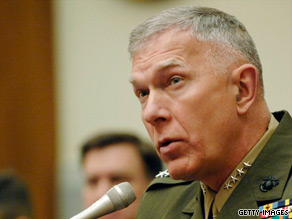 Gen. James Conway has received suggestions on changing the "golden hour" policy, his aide says.
The idea is being pushed by Gen. James Conway, the Marine Corps commandant, who just returned from Afghanistan. He was told by medical personnel there they want more flexibility in the system.
The "golden hour" is the hour immediately following traumatic injury in which medical treatment to prevent irreversible internal damage and optimize the chance of survival is considered most effective.
Conway "did indeed hear from several who suggested that getting a wounded service member to 'the right facility at the right time' may be more critical than meeting the 'golden hour' threshold," said Conway's spokesman, Maj. David Nevers. Conway said he plans to forward those ideas to top Pentagon leaders and medical personnel.
"The commandant made clear that from his perspective, the key is to stabilize the wounded as soon as possible," Nevers said.
Medical personnel have said they would like the flexibility to keep the critically wounded at field locations for longer than one hour to stabilize them before sending them to major trauma centers in places like Bagram Air Base.
Defense Secretary Robert Gates had made it a priority in recent months to send more medical helicopters and medics into Afghanistan to cut the evacuation time for wounded troops, which in some cases had approached nearly two hours.
The number of wounded troops has risen sharply in recent months as more U.S. troops have gone to Afghanistan. According to the Pentagon, more than 350 troops have been injured so far in August. The lowest number of injured troops this year was 27 in February.
E-mail to a friend

All About Afghanistan • U.S. Armed Forces Activities