(CNN) -- Milwaukee Mayor Tom Barrett returned to City Hall on Monday afternoon for the first time since he was attacked earlier this month.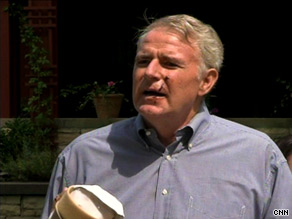 Milwaukee Mayor Tom Barrett was hit in the face and head with a tire iron.
"It feels good to be back," he told CNN affiliate WISN. "I'm back for a couple of hours this afternoon, I went to a cabinet meeting, had some budget stuff to work on, and I'm going through a lot of correspondence. I'm slowly getting back in the saddle," he said.
Barrett was attacked August 15 when he responded to a woman's cries for help as he and his family members were leaving the Wisconsin State Fair. A 20-year-old man is facing charges after Barrett was hit with a tire iron on his face and head.
Barrett suffered a fractured right hand in the attack. The mayor is still recuperating -- he showed up for work Monday with the hand still bandaged.
E-mail to a friend

All About Milwaukee