(CNN) -- Flags were being lowered to half-staff Monday in Buffalo, New York, after two firefighters died inside a fire-engulfed building, city officials said.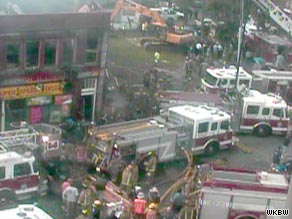 The cause of a Monday morning blaze that killed two Buffalo, New York, firefighters is under investigation.
The firefighters were responding to reports that at least one person was trapped in the building.
"Today is a very tragic day in the city of Buffalo," Buffalo Mayor Byron Brown said at a news conference. "Our hearts are broken right now, and we are all saddened by this terrible tragedy."
The cause of the blaze is under investigation, and the remains of the building are being searched to determine if anyone else perished inside, Buffalo Fire Commissioner Michael Lombardo said.
Emergency officials received a call around 3:50 a.m. that "someone [was] banging on a wall and calling for help" from inside the burning building, Lombardo said. Video footage showed the top level of the two-story brick building fully engulfed in flames. A convenience store was on the building's first floor.
Lombardo identified the two victims as Lt. Charles "Chip" McCarthy, 45, and Jonathan Croom, 34 -- two men he said he knew personally. They died when the first floor of the building crashed into the basement, trapping them both.
It is the first time Buffalo firefighters have died while on duty in more than a decade, according to CNN affiliate WKBW-TV in Buffalo.
Between 200 and 300 firefighters from the area showed up at the scene Monday morning to pay their respects, Lombardo said.
"This is a family, and we lost two members of our family today," he said.
Lombardo described Croom as "a young firefighter coming up." The 10-year veteran of the Buffalo Fire Department is survived by his fiancée and a 9-month-old child.
McCarthy, a 22-year veteran of the department, leaves behind a wife, three children and a 6-month-old grandchild.
"Chip was always -- the place you could find him was in the fire, doing his job," Lombardo said of McCarthy. "There was probably nobody that did it better."
E-mail to a friend

All About Buffalo (New York)