(CNN) -- The families of three American hikers detained by Iran said Thursday they don't know anything about their whereabouts or how they are after nearly three weeks.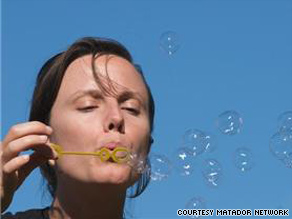 Sarah Shourd is one of three American hikers whom Iran detained on July 31.
Relatives and friends of Shane Bauer, Sarah Shourd and Josh Fattal have launched www.freethehikers.org to inform the public of efforts to free the three after Iran took them into custody on July 31. The site links to a Facebook group that nearly 1,400 friends, relatives and well-wishers have joined, according to a statement from the families.
The families have appealed to Iranian authorities to grant consular access to the trio, who they said "accidentally strayed into Iran across an unmarked border during a five-day hiking trip in Iraqi Kurdistan."
"We still know nothing about how our children are and where they are being held. We respectfully urge the Iranian authorities to grant them their right to consular access so we at least can know they are safe and well," the families said.
Iran and the United States have not had formal diplomatic relations since the American hostage crisis that began in 1979. Swiss diplomats, who represent U.S. interests in Iran, have been seeking consular access.
"If our children had known the border was there, they wouldn't have crossed it," the statement said. "We continue to hope and believe that the Iranian authorities will realize that our children entered their country by accident and will return them to us."
Shon Meckfessel, a friend who was traveling with the trio, has said he believes Bauer, Shourd and Fattal had no idea they were nearing the Iranian border and made "a simple and regrettable mistake." Meckfessel has said he stayed behind at a hotel because he had a cold.
Don't Miss
He said the four traveled from Damascus, Syria, to the Kurdistan region of Iraq "for a short vacation."
"While going there might seem strange to Americans, the Kurdish territory is actually very beautiful and quite safe," he said.
After picking up the three Americans, Iran charged them with "illegal entry," according to the nation's semi-official Fars News Agency.
However, in Thursday's statement, the families said Iran has not charged the three with a crime.
The hikers, all graduates of the University of California, Berkeley, entered northern Iraq from Turkey on July 28 and planned to spend five days touring, according to the families' Web site. They apparently were near the Ahmed Awa waterfall when they were detained.
Bauer, 27, who is fluent in Arabic, and Shourd, 31, have been living together in Damascus, where both have been studying Arabic and working as free-lance journalists. They have written articles on the Middle East. Bauer grew up in Onamia, Minnesota.
Shroud, a Chicago, Illinois, native, grew up in Los Angeles, California, and also teaches English.
Fattal, 27, was visiting Bauer and Shroud in Damascus when they went on their trip. Fattal is an environmentalist who worked for three years at the Aprovecho Research Center in his hometown of Cottage Grove, Oregon. The center teaches sustainable living skills. He grew up in Elkins Park, Pennsylvania.
E-mail to a friend