By Paul Vercammen
CNN





LOS ANGELES, California (CNN) -- When Sergio Arias returned to civilian life in Oxnard, California, visions of war still haunted him.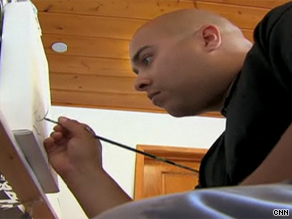 Sergio Arias, a former Marine, paints while at a facility for homeless veterans.
The former Marine, who served a tour of duty during the invasion of Iraq in 2003, says he suffers from post-traumatic stress disorder.
"Even now, it's not something I want to relive," says Arias, who left the military as a corporal in August of that year.
After his release from the service, Arias became addicted to methamphetamines and landed in jail.
Arias, 28, says he has cleaned up at New Directions, a program for addicted and homeless vets in Los Angeles.
Arias is getting by with a lot of help from newfound friends, veterans of the war in Vietnam who also were homeless, addicted and have been incarcerated.
John Keaveney started New Directions in 1992 after he came home from Vietnam and served nine years in prison on a stabbing conviction.
The 60-year old former Army infantryman says combat can erode a veteran's self worth.
"War does things to make them [veterans] feel they cannot aspire to be the best they can be," Keaveney says. "I think he [Arias] has more potential than that."
Arias lives at one of the five New Directions group homes in Los Angeles with other formerly homeless veterans. Keaveney visits regularly and tries to motivate Arias to recover and move on with his life. Arias hopes to get a job in the construction industry, but work is nearly impossible to find.
Keaveney also believes Arias suffers from PTSD.
"He comes by every weekend and tells me he was going through the same thing when he was younger and he got out of the military," Arias says. "I look up to John. He tells me I should not be ashamed of having PTSD, or having problems."
Now, instead of drugs, Arias copes with his stress by painting. The beefy former Marine is applying delicate strokes of black on a white canvas. It will be a painting of bamboo.
"It helps me forget about everything," he says. "It helps me stay calm."
Before New Directions got involved, Arias was scheduled to leave jail and head out on the streets.
New Directions says there are more than 15,000 homeless vets in Los Angeles, the largest such population in the United States. Most of the vets are from the Vietnam War era. A small but growing number of veterans from Afghanistan and Iraq are starting to hit the streets.
New Directions reports it took in 12 Iraq and Afghanistan vets in 2007, 24 in 2008 and 20 so far this year. Lack of jobs and affordable housing in Los Angeles is a major problem. Keaveney is hoping to get trade unions, such as those representing electrical workers, to hire some homeless vets. He also believes there is plenty of opportunity in the emerging world of "green jobs" such as recycling centers.
But New Directions, for now, is one generation of veterans helping another. Arias recently met another homeless veteran, a fellow Marine, 60-year-old Michael Anderson. Anderson saw combat in Vietnam but came home troubled and has spent years addicted to alcohol and drugs. He recently served four years in prison for what he describes as charges of domestic violence. While in prison, he began writing poetry about military service.
Anderson and Arias sat on a hallway bench, sunlight spilling onto their shoulders as if poured through a church window.
War at Home
American Morning's "War at Home Series" continues with a look at a veteran's search for jobs.
Thursday, 6 a.m. ET

They spoke about Anderson's poem and Arias' art.
"I titled it 'I Salute You,'" Anderson told Arias.
Anderson began to read:
As the bells toll, I offer a salute,
Our fighting men in uniform, brave and resolute
Arias and Anderson begin discussing their vision.
"After hearing his poem, I was talking about [how] I already have a picture in my head of what I want to paint of that poem," says Arias.
"It's going to be like in the field when there is a fallen service member. They put a helmet and rife and boots together. That is what I am going to paint."

"He knew instantly," Anderson nodded and smiled.
Anderson, who served his country so long ago, shakes hands with the younger man and says one more time "Semper Fi."
E-mail to a friend

All About Veterans' Affairs • Post-Traumatic Stress Disorder • Iraq War