(CNN) -- A raging wildfire in northern California scorched more than 5,000 acres and hundreds of firefighters struggled to bring it under control Friday, the California Department of Forestry and Fire Protection said.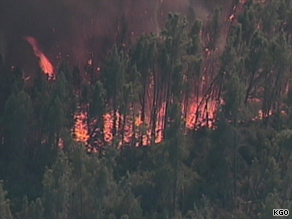 Firefighters say a raging California wildfire was about 15 percent contained as of late Friday.
The blaze was about 15 percent contained Friday evening, but fire officials said they were making good progress.
About 1,550 firefighters were battling the blaze with air and ground resources, said Daniel Berlante, a Cal Fire spokesman. In all, 5,036 acres have been burned, Berlante said.
The wildfire aided by strong winds burned at least two structures, a source at Cal Fire's central command center said.
The smoke was so heavy Thursday that authorities were unable to accurately assess the amount of damage, Berlante said.
"Now that the smoke has cleared, we can get a better view of it," he said. iReport.com: Are you there?
No injuries have been reported, according to Cal Fire's Web site.
Lt. Gov. John Garamendi declared a state of emergency for Santa Cruz County, where the wildfire is burning.
Garamendi is acting as the state's chief executive while Gov. Arnold Schwarzenegger is in Massachusetts for the funeral of his mother-in-law, Eunice Kennedy Shriver.
The governor was scheduled to return to California late Friday and tour the Santa Cruz fire zone on Saturday.
The fire is alongside the Santa Cruz Mountains near the Pacific Coast about 60 miles south of San Francisco.

Watch as fire spreads »

The cause of the blaze, which began Wednesday night, was under investigation, said Cal Fire spokeswoman Megan McFadden.
A mandatory evacuation order was issued for about 300 households in the Swanton area Thursday. Up to 2,400 residents had evacuated in the Swanton and Bonny Doon areas, Berlante said.
E-mail to a friend

All About California • Wildfires