(CNN) -- A public wake began Thursday afternoon for Eunice Kennedy Shriver, the sister of President John F. Kennedy and a champion of the disabled. Shriver died Tuesday at age 88.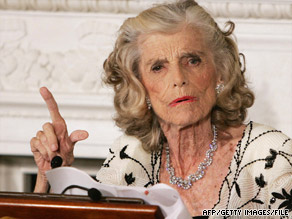 Eunice Kennedy Shriver speaks at a dinner in honor of the Special Olympics in July 2006.
The wake is to last until 7 p.m. at Our Lady of Victory Roman Catholic Church in Centerville, Massachusetts. A prayer service is scheduled at the church from 6 p.m. to 6:30 p.m., led by the Rev. Richard Fragomeni.
Details about her burial, which is to be private, were not available.
Born on July 10, 1921, in Brookline, Massachusetts, Shriver was the fifth of nine children of Joseph P. and Rose Fitzgerald Kennedy. She emerged from the long shadow of siblings John Kennedy, Robert Kennedy and Sen. Edward Kennedy as the founder of the Special Olympics, which started as a summer day camp in her back yard in 1962.
Today, 3.1 million people with mental disabilities participate in 228 programs in 170 nations, according to the Special Olympics.
"Eunice is now with God in heaven. My sister Jean and I, and our entire family, will miss her with all our hearts," Edward Kennedy, who is battling brain cancer, said on his Web site. "I know that our parents and brothers and sisters who have gone before are filled with joy to have her by their side again."
Her health began to fail in recent years, landing her in the hospital in 2005 after a minor stroke and hip fracture. She was hospitalized again in 2007 for an undisclosed ailment.

She is survived by her husband, R. Sargent Shriver Jr., who ran President Lyndon Johnson's War on Poverty in the 1960s and was Democrat George McGovern's running mate in the 1972 presidential election.
Other survivors include her daughter, Maria Shriver, California's first lady; and sons Robert Sargent Shriver III, Timothy Perry Shriver, Mark Kennedy Shriver, and Anthony Paul Kennedy Shriver.
E-mail to a friend

All About Eunice Kennedy Shriver • Special Olympics International Inc.