(CNN) -- More than 2,000 residents have been ordered to flee ahead of a raging wildfire near northern California's Santa Cruz Mountains, and one man said he had an "ominous feeling" as ashes descended on him.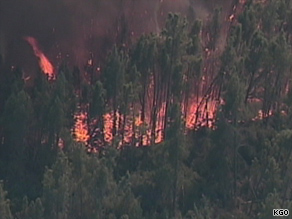 The northern California fire had burned 2,300 acres by Thursdsay afternoon, officials said.
Helbard Alkhassadeh traveled down the state's scenic Highway One between Davenport and Santa Cruz, and submitted images of the blaze, named the Lockheed Fire, to CNN's iReport.
"I got to the point where the main plume was going over my head and it was sprinkling ashes on me," he said. "It's an ominous feeling when you have ashes raining on you. It looks like a nice sunny day, then you drive into it and it becomes like a volcanic cloud."
The fire, which began Wednesday night near the Pacific Coast about 60 miles south of San Francisco, had burned 2,800 acres as of Thursday afternoon, said Daniel Berlant, spokesman for the California Department of Forestry and Fire Protection. iReport: Are you there?
No part of the fire had yet been contained, Berlant said.
More than 300 firefighters from several jurisdictions were trying to tame the fire. No injuries had been reported.

Watch the fire rage »
The cause of the fire was being investigated, said department spokeswoman Megan McFadden said.
About 2,200 residents of the Swanton area and the nearby town of Bonny Doon were under mandatory evacuations, Berlant said. The fire was threatening hundreds of homes, he said.
Some residents of Bonny Doon left voluntarily before the evacuation order came, Alkhassadeh said.
"It's not directly affecting them, but they want to be absolutely sure until the last minute," he said before Bonny Doon's evacuation order.
A shelter was set up in Santa Cruz, about 10 miles south of the fire area.
Winds coming from the ocean picked up in the afternoon, fanning the flames and making things more difficult for firefighters, Berlant said.
"The biggest challenges are the winds and the extremely dry conditions that we have," he said.
Scott Bates, an iReporter who lives in Bonny Doon, said "everybody's packing." He estimated the fire was about four miles from his home.
Mike Murrow, a plumber who lives in Felton, about six miles east of Bonny Doon, told CNN his company wasn't taking any service requests close to the fire. Although he was not home, he said he could see the blaze edging closer to his residence, and that made him "nervous."
One of the area's residents, Dave Boxer, told CNN affiliate KTVU on Thursday he left the home he built 35 years ago.

"It's got everything that we've collected over the years. It's very meaningful, and this is a lot of anxiety ... sitting around waiting to find out if your place is going to burn down," Boxer told KTVU.
A fire in the same area of Bonny Doon last year forced the evacuation of about 1,500 residents, officials said.
E-mail to a friend

CNN's Nick Valencia and Jason Hanna contributed to this report.
All About California • Wildfires