By Shelby Lin Erdman
CNN





(CNN) -- Americans are still far too dependent on foreign oil, and states aren't doing enough to change that, according to a study by an environmental group ranking states on an "oil vulnerability" scale.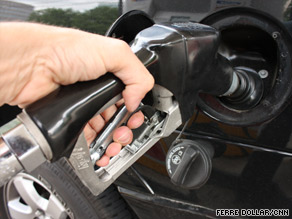 Residents of Mississippi are most vulnerable to gasoline price hikes, an annual survey finds.
The annual index compiled by the Natural Resources Defense Council measures the effect of oil and gas price increases on people's incomes. The survey also ranks the states that are doing the most to promote alternative energy sources.
The council's "Fighting Oil Addiction: Ranking States Oil Vulnerability and Solutions For Change" survey finds, for the third year in a row, that Mississippi tops the list as the most vulnerable state when it comes to a spike in gas prices. The study ranks states based on a simple income-to-gas-price ratio -- how much a family makes compared with what they're spending on fuel every year.
"This is very relevant right now. We've seen, in spite of the economy being down, prices rebounding because of the summer driving season," according to Deron Lovaas, the council's transportation policy director.
AAA says the price of gas has jumped more than 16 cents in the past two weeks.
Mississippi residents spent 9.14 percent, or on average $2,702, of their income on gas last year, according to the study. Montana ranked second on the survey. South Carolina was third, followed by Oklahoma, Louisiana, Kentucky, Texas, New Mexico and Georgia. Rounding out the Top 10 was Arkansas.
Residents in Connecticut ranked at the bottom of the list as the least likely to be affected by spiking gas prices, spending only 3.24 percent of their income, or on average $1,824.58, on fuel last year.
The study measured other factors as well, including how much driving a person does and how much gas he consumes. Montana, ranked second-most vulnerable, is a rural state where residents drive farther to get to places such as work and school. Residents there will have a bigger gas expense than residents in, for example, New York City, where people use public transportation and travel shorter distances.
Energy analyst Bill White, with the environmental consulting firm Gardiner and Associates, was part of the "Fighting Oil Addiction" study.
"We are measuring vulnerability, and people who spend a higher share of their income on gasoline are more vulnerable to rising gas prices. We're concerned with working folks and their vulnerability to this. If they don't have alternatives and the policies aren't moving in directions to provide them with alternatives, they will continue to be vulnerable," White said.

How does your state compare? »
And that's really at the heart of the study: choices, or lack of them, according to the study's authors. The council says Americans don't have any choices when it comes to fueling their vehicles, which means no control over increasing gas prices. Either pay them or don't drive.
"In 2008 Americans consumed a whopping 362 million gallons of gasoline," Lovaas said. "And with about 200 million registered drivers, that's between 1 and 2 gallons a day per person. We consume a tremendous amount of gasoline, and it costs us a lot of money. All told last year, Americans spent about $428 billion on gasoline."
Most of the oil in used in the United States does not come from domestic sources, and Lovaas said that's part of the problem.
"Our biggest importers, granted, are from friendly countries. But we also import a lot of oil from countries like the OPEC countries in the Middle East, as well as Russia and Venezuela. So unstable and sometimes hostile partners are ones we have to rely on to slake this tremendous thirst for gasoline," he said.
But critics say those now vulnerable to oil and gas price increases, such as lower-income families, would still be most vulnerable under alternative fuel programs. They'd still have to pay more proportionally from their income for biodiesel fuel or electricity. Price surges for any fuel would affect those making less.
The executive director of the North Carolina Petroleum Council, Bill Weatherspoon, blames the council and other environmental action groups like it, for what he calls a scarcity of fossil fuels contributing to higher prices.
"People who are paying a lot for gasoline have the NRDC to thank for that, because that group has stopped the search for new clean-burning fuel we'll need in the future through government regulations," Weatherspoon said.
"We want to find clean-burning natural gas and oil here at home. We know we can," he added.
But Lovaas said it's not about disliking certain fuels.
"This is a big problem in terms of our economy, in terms of security, and in terms of the environment. Transportation is responsible for about a third of global-warming pollution in this country, and from 1990 to 2005 it was the fastest-growing sector," Lovaas said.
Council spokesman Michael Oko said, "We think there should be alternatives and that people should have choices. So they should be to look at plug-in hybrid cars. And they should be able to look at possibly doing ethanol or other biofuels as alternatives. And that's what we're trying to to give people, the choices, (so that) we're not dependent solely on oil."
"Choices are always a good thing," Weatherspoon agreed. "Choices are good in the energy market. To have innovative new technologies come into play, that's all wonderful, that's good. But we have to remember the consumer will support a new technology provided it has a good price."
And Americans are going to support the dependable fuels, Weatherspoon said.
The "Fighting Oil Addiction" study also ranked states that are doing the most to promote clean-energy technologies and reducing dependence on oil.

California tops the list, followed by Massachusetts, Washington, New Mexico, Connecticut, New York, New Jersey, Pennsylvania, and Oregon. Florida rounds out the Top 10.
The council said by "promoting clean vehicle and fuel technologies, as well as transportation alternatives, states can reduce oil dependence. These measures can, in turn, create clean energy jobs, reduce vulnerability to fuel price hikes, and lessen air pollution and greenhouse gas emissions."

E-mail to a friend

CNN's Sherri Maksin contributed to this report.
All About Gas Prices • U.S. National Economy • Mississippi • Connecticut