(CNN) -- The remains of the first American officer shot down in the 1991 Persian Gulf War, identified on August 2, will be taken to Jacksonville, Florida, for burial, said a family spokeswoman.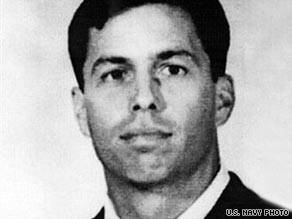 Navy Capt. Michael Speicher's remains were found by U.S. Marines in Anbar Province.
U.S. Navy Capt. Michael "Scott" Speicher was shot down in an F/A-18 Hornet on January 17, 1991, the first night of the war.
The U.S. Department of Defense's announcement of the discovery of Speicher's remains ended more than 18 years of speculation about whether Speicher survived the crash and was being held captive or died in captivity in the ensuing years.
His remains will be accompanied to the city he grew up in by Buddy Harris, a friend of Speicher and current husband of Speicher's former wife, said family spokeswoman Cindy Laquidara.
"These were Scott's wishes that he be buried in Jacksonville," said Laquidara. They were wishes he expressed before going to Iraq, she said.
The family is planning a public procession through the west side of Jacksonville to the Veterans Memorial Wall, Laquidara said. The procession will pass Speicher's high school, Forest High School, and his church, where a monument dedicated to Speicher stands out front. The family has opted for a private burial, she said.
According to Navy Secretary Ray Mabus, an Iraqi citizen told U.S. forces in Iraq in early July about the location of the crash that killed Speicher. U.S. Marines in Anbar Province went to the site and spoke to another Iraqi citizen who told them he witnessed the burial of Speicher's remains in the desert after the crash, the statement said.
A search of the area uncovered the remains, which were flown to Dover Air Base last week and positively identified as Speicher's by the Armed Forces Institute of Pathology, a statement from Mabus said.
Recovered remains included bones and skeletal fragments, and positive identification was made by comparing Speicher's dental records with a jawbone recovered at the site, the statement said.
Laquidara said she and Harris met with Pentagon representatives Tuesday and they expect to meet again. The family and Pentagon are not arguing over the details of Speicher's death, but they are resolving any witness accounts or other issues surrounding the crash.
Laquidara added that the family believes that "death did not happen on impact."
Speicher was a lieutenant commander when shot down, but because his status remained uncertain, he received promotions during the past 18 years, reaching the rank of captain.
Speicher was originally listed as "Killed-In-Action/Body-Not-Recovered" in May 1991. That status changed in 2001 to "Missing in Action," and then to "Missing/Captured" in 2002 based on sighting reports in Iraq. Those sightings have since been discredited.
His status was changed back to MIA earlier this year.

The case has been a sensitive one for the Navy, as the family has worked closely with the service to ensure the hunt for Speicher would not let up.
"We reiterate our commitment to find and account for all military members and civilians who have gone missing in the service of our nation," said the nation's top U.S. commander in Iraq, Gen. Ray Odierno in an August 2 statement. "We will not stop until all are found."
E-mail to a friend

CNN's Kimberly Segal contributed to this report.
All About Iraq War • Persian Gulf