From Citabria Stevens and Edmund DeMarche
CNN





NEW YORK (CNN) -- The driver responsible for a head-on collision that killed eight people -- including herself and four children -- on the Taconic State Parkway north of New York City last week was drunk and impaired by marijuana, authorities said.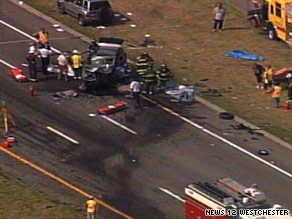 One of the vehicles in the three-vehicle wreck was heading the wrong direction, police said.
Diane Schuler, 36, had a blood alcohol concentration of 0.19 percent and high levels of marijuana in her system, Maj. William Carey of the New York State Police said at a news conference Tuesday.
Schuler also had "6 grams of alcohol in her stomach that had yet to be metabolized," Carey said.
Schuler's blood alcohol level indicated that she had consumed approximately 10 alcoholic beverages, said Betsy Spratt, chief toxicologist with the Westchester County district attorney's office.
"She would have had difficulty with perception, with her judgment [and] with her memory," Spratt said of Schuler. "Around that level of alcohol, you also start to get what's called tunnel vision, where your perception is changed and you can't see peripherally all the time."
Investigators recovered a broken bottle of vodka in Schuler's minivan, said Carey, who added police didn't know whether she was drinking while driving. Spratt said she can't determine what kind of alcohol Schuler drank.
The head-on crash happened July 26 when a minivan driven by Schuler and carrying five children was heading the wrong way on a northbound lane of the Taconic State Parkway about 30 miles north of New York City, police said. The minivan crashed into an SUV carrying three adults.
Schuler and four of the children in the minivan died, as did the three people in the SUV. One child in the minivan survived and was hospitalized.
One of the killed children was Schuler's daughter, and the other three were her nieces, CNN affiliate WABC reported. The child who survived is Schuler's son, according to WABC.
A third vehicle carrying two adults was also involved in the crash, state police said. They suffered minor injuries.
Witnesses told authorities they believed they saw the minivan straddling lanes and tailgating before the crash, according to WABC.
The district attorney's office and the police "will continue to investigate the facts and circumstances that led up to the collision causing the deaths, so that the public and the families of the victims can understand what led to this horrific crash," said Westchester County District Attorney Janet DiFiore in a written statement.
Carey echoed that sentiment, saying a criminal investigation continues but that no criminal charges will be filed at this point.

E-mail to a friend

All About New York City