WASHINGTON (CNN) -- The United States on Tuesday expressed its deep concern about an Iranian-American scholar who was recently charged in connection with post-election violence in the Islamic republic.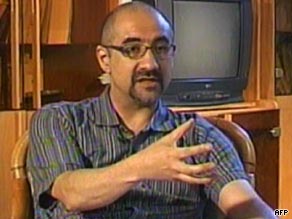 Kian Tajbakhsh, in an image taken from an interview on Iranian state TV in 2007.
"Given that the charges facing Mr. [Kian] Tajbakhsh are without foundation, we call on Iran's leadership to release Mr. Tajbakhsh without delay," State Department spokesman Robert Wood said Tuesday, reading a prepared statement. "He has played absolutely no role in the election and poses no threat to the Iranian government or its national security."
Wood said Tajbakhsh has not been provided an attorney, which he is entitled to, and warned Iran that "the world is watching what is happening in Iran and will bear witness."
Iranian security forces seized Tajbakhsh from his Tehran home on July 9, confiscated his computer, and ransacked the house where he lives with his wife and year-old child, according to sources close to his family.
The reason for his arrest was not immediately known, and there has been no comment from the Iranian government. The sources said his family doesn't know where he is.
Tajbakhsh reportedly was charged by an Iranian court on Saturday along with more than 100 others for their alleged roles in protests that followed last month's disputed presidential election.
The June 12 election gave President Mahmoud Ahmadinejad a second term in office, but it also sparked a massive opposition movement that has regularly protested against the Iranian leadership and has shaken the foundation of Iran's Islamic theocracy.
The trial of Tajbakhsh and the others is scheduled to resume on Thursday, a day after Ahmadinejad is sworn into office, according to Human Rights Watch.
The rights organization said Saturday's "trial" of Tajbakhsh and the others included forced confessions and "underscores the arbitrary nature of their detention." It said the charges against them are politically motivated.
Don't Miss
The lengthy indictment, according to Human Rights Watch, devoted an entire paragraph to Tajbakhsh, who was arrested in 2007 for endangering national security. After that arrest, he was held in solitary confinement in Iran's Evin Prison for more than three months, along with another Iranian-American, Haleh Esfandiari, who also was accused of endangering national security.
Esfandiari was freed weeks before Tajbakhsh was.
At the time, Tajbakhsh was an independent consultant and urban planner working for George Soros' Open Society Institute. Tajbakhsh, who holds a doctorate in urban planning from Columbia University, has taught at universities in both America and Iran.
E-mail to a friend