By Craig Johnson
Special to CNN





(CNN) -- Danny Scott of Lutcher, Louisiana, said he's thrilled about the new vehicle he purchased through the "cash for clunkers" program, but watch how you talk about his baby, the 1991 Ford F-150 he had to give up.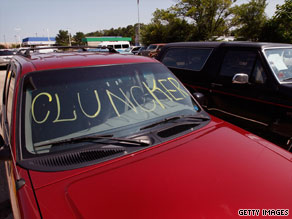 Clunkers populate the lot outside a dealership in Countryside, Illinois, outside Chicago.
"I told them [the salespeople] don't call it a clunker," Scott said of the maroon and red truck he had for almost 20 years.
Yes, it had 422,000 miles on it, but it still ran like a champ, Scott said. "When it was time to get it fixed, I got it fixed. It got me from point A to point B. I changed my oil every 3,000 miles or so. I figure it's an investment, you know?"
But the lure of a new vehicle -- at a bargain-basement price -- was too much to resist.
"I bought a crew-cab Silverado, four-door," Scott said, noting that he originally only wanted an extended cab.
His old gas-guzzling truck qualified for the program's miles-per-gallon requirements, and while the Silverado doesn't sip gas, it still qualified for the fuel efficiency standard.
"The truck was listed for $31,000, and they had this employee pricing [in which customers pay what dealership employees pay]; it came in at $25,000. He gave me $4,000 for my Ford. I paid, like, $21,000.
"I figured it was time to make a move."
And what a move, for American car buyers.
There was plenty of anecdotal evidence that Americans were indeed moving their clunkers, and Autobytel, an automotive shopping and research Web site, reported last week that gas guzzlers were seeing the most "clunker evaluation activity" on its site.
Ford, Dodge, Jeep and Chevrolet trucks and sport utility vehicles accounted for the top 10 vehicles being considered for trade-ins, according to the site.

See what happens to the traded-in clunkers »
Several auto companies have reported that their fuel-efficient models were among the top sellers this month, and the White House reported Monday that cars being purchased under the program had an average fuel economy of 25.4 miles per gallon. That's compared with 15.8 mpg for the trade-ins.
The top five cars being purchased under the program, according to experts and the federal government? The Ford Focus, Toyota Corolla, Honda Civic, Toyota Prius and Toyota Camry, all of which can get about 30 mpg or more. See the full list
The program has been so popular that the leaders of the U.S. Senate said Tuesday that they expect the chamber to approve a $2 billion extension of the program this week.
Despite the popular "clunker" name, the government requires vehicles to be drivable and to have been insured continuously for the past year. So no hauling, pushing or pulling broken-down jalopies into dealer parking lots.
But what kinds of vehicles were being turned in?
"We're seeing Dodges, Fords, Tahoes, Suburbans, parked for ages," said Karl Jones, finance director at Team Toyota in Baton Rouge, Louisiana.
He said business was brisk as customers who came in with "big, heavy gas-guzzling road hogs" could come out with shiny new wheels for a steal of a deal.
Business at the dealership has tripled since the program started about a week ago, Jones said.
"We did 20 new cars Saturday, and we sold 15 Friday." On a good weekend, Jones said, they sell about 18 vehicles.
"So, it's created a frenzy. The market seems to be heading back to where it was."
Still, Jones said, he knew that with the considerable paperwork dealers had to fill out to participate in the program, a boon for consumers could still turn out to be a bust for dealers.
"The money's not real until the government starts sending these checks back," Jones said.
"A lot of folks are coming in who wouldn't have been in the market, but until the program actually does what it says it's going to do, we don't know if it's a disaster or not."
Mark Near, general sales manager at Bob Smith Toyota & Scion in La Crescenta, California, said his dealership has seen sales double in a week.
"It's phenomenal. We did a 40-car weekend. Normally we do 20," Near said.
As for the kinds of vehicles people were bringing, Near said it ran the gamut. "It's a potpourri, really."
The dealership may have benefited because of its fuel-efficient cars such as the Prius, Corolla and Scion, Near said.
"Southern California is amazing; people have more than one car here, so it's not down-on-their-luck people or poor people we're seeing," he said.
"I'm seeing people who are taking advantage, buying a car for their son. It goes from, 'Let me see what I can get,' then [when the selection thins out] desperation mode."

Scott of Louisiana said although government programs often come with a lot of red tape, people can get a good deal with the clunker program, if they look under the hood.
"I think it's a real good program. It's not a fluke," he said.
E-mail to a friend

All About Chevrolet Silverado • Economic Issues • Hybrid Vehicles • U.S. Senate