By Jason Hanna
CNN






(CNN) -- Andrew Sable wasn't in the market for new wheels, but he says the federal "cash for clunkers" program helped him get an offer he couldn't refuse.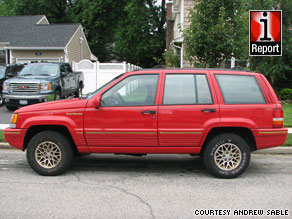 "I'd have been foolish not to take it," said Andrew Sable, who got $9,000 for his 1993 Jeep Grand Cherokee.
The gas-guzzling 1993 Jeep Grand Cherokee his college-student son drives went bad last weekend. Ordinarily Sable would have fixed it, even though the vehicle was worth perhaps $2,000 at best.
But, aware of the program that started this month, Sable took a $4,500 federal credit this week to trade in the Jeep and buy a new, more fuel-efficient Chrysler PT Cruiser. And Chrysler, eager to sell vehicles, threw in its own $4,500 incentive.
The $9,000 in savings knocked the price to $8,900 before taxes and fees.
"I'll never get $9,000 for this old vehicle [any other way]. I'd have been foolish not to take it," the 43-year-old Sable, an insurance underwriter living in North Bellmore, New York, told CNN after filing a report with iReport.com. He'll drive the PT Cruiser and let the son drive his Nissan. iReport.com: Read Sable's account of the purchase
Under the $1 billion program, people will be given credits of $3,500 to $4,500 to replace gas guzzlers -- generally vehicles with a combined city/highway fuel economy of 18 miles per gallon or less -- with new vehicles that are more fuel efficient. The old vehicles are crushed or shredded.

Watch CNN's Gerri Willis explain the "cash for clunkers" program »
The exact credit offered through the program --- officially called the Consumer Assistance to Recycle and Save Act of 2009, or CARS -- depends on how many more miles per gallon the new vehicle gets.
Don't Miss
Fuel economy thresholds for new vehicles vary according to type. New cars must have a combined city/highway fuel economy of at least 22 mpg. New SUVs and small or medium pickup trucks or vans must get at least 18 mpg. New large vans and pickups must get at least 15 mpg.
The government put Sable's old Jeep at 15 mpg. His new PT Cruiser, which the program classifies as an SUV, gets a combined 21 mpg.
Part of the program's intent is to get vehicles with low fuel efficiency off the road. Caroline Radtke, a 31-year-old who wrote about her purchase on iReport.com, was happy to oblige.
Radtke and her husband this month got a $4,500 CARS credit for trading in their 2000 Isuzu Trooper (15 mpg) to buy a new Volkswagen Jetta SportWagen, a diesel-powered car that the program lists as getting 33 mpg. After the credit, they paid just under $26,000.
"What was going out of my [old] vehicle was bad for the planet, and you're putting so much financially into the stupid thing to fill it up because it runs out so fast," Radtke, a freelance graphic designer living in San Antonio, Texas, told CNN after filing her iReport. "After driving it for eight and a half years, I wanted something more productive financially and more friendly to the Earth."
The couple would have bought a new car without CARS, but the credit probably allowed them to get a nicer car than they otherwise would have, Radtke said. If they had sold the Trooper themselves, they might have gotten $3,000 if they were lucky, she said. iReport.com: Radtke's purchase
The CARS program isn't for everyone. The credit won't go toward used-car purchases. Also, people looking to get rid of their under-18-mpg vehicle might find they can get about the same or more than a CARS credit by selling it.
But the program worked just fine for iReporter Julie Callahan, a Salt Lake City, Utah, woman who was looking to replace her 1990 Chevy C1500 pickup truck, which had more than 350,000 miles and is rated at 15 mpg.
She and her husband already had a newer vehicle, but she used the truck to go to work and for other in-town purposes. But lately it started having shifting problems, and it was occasionally slipping going uphill.
Like Sable, Callahan, 39, got $4,500 this week to turn in the old vehicle and buy a new PT Cruiser. And, like Sable, she also received a separate $4,500 credit from Chrysler. She'll be paying about $10,000 for her new vehicle after taxes and fees.
The $9,000 she saved with the credits from CARS and Chrysler isn't too shabby, considering she figures her old pickup was nearly worthless because it had so many miles. iReport.com: How Callahan got $9,000 for her truck
"Without the incentives, I probably wouldn't have purchased a brand new vehicle," Callahan, who runs a science outreach program at the University of Utah, told CNN after filing her iReport.

Unless it is renewed, the program will end November 1 or when funds allotted by Congress run out, whichever happens first.
Trade-ins must be less than 25 years old, and their titles must be free of any liens. Consumers can go to a Web site, cars.gov, to learn the program's rules. FuelEconomy.gov: See if your vehicle qualifies for CARS
E-mail to a friend

All About Passenger Cars • Chrysler LLC • Volkswagen Jetta