WASHINGTON (CNN) -- Federal authorities unveiled their $1 billion "cash for clunkers" plan Monday as a win for the environment, a win for automakers and a win for drivers who would like to trade up, but they acknowledged the program's impact is uncertain.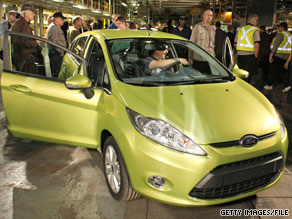 Cars bought through the program must get at least 22 mpg, like this Ford Focus. Rules are different for trucks.
"We'll know a lot more a week from today," Transportation Secretary Ray LaHood said.
Under the program, federal funds will be used to give people a $3,500 to $4,500 credit to replace their gas guzzlers -- generally vehicles with a combined city/highway fuel economy of 18 miles per gallon or less -- with certain new vehicles that are more fuel efficient.
The exact credit depends on how much more fuel efficient the new vehicle is.
Fuel economy thresholds for new vehicles vary according to type. New cars must have a combined city/highway fuel economy of at least 22 mpg. SUVs and small or medium pickup trucks or vans must get at least 18 mpg. Large vans and pickups must get at least 15 mpg.
The program, officially called the Consumer Assistance to Recycle and Save Act of 2009, or CARS, technically started July 1, but many auto dealers had been reluctant to participate until they understood the program in detail. The National Highway Traffic Safety Administration published final rules for dealers Friday.
Unless it is renewed, the program will end November 1 or when funds allotted by Congress run out, whichever happens first. iReport.com: Are you going to participate in "cash for clunkers"?
The traded-in cars must be less than 25 years old, and their titles must be free of any liens. Consumers can go to a Web site, cars.gov, to learn about the program's rules. People also can call a CARS hot line at 866-424-9153. FuelEconomy.gov: See if your vehicle qualifies for CARS program
The program already has 15,893, or 88 percent, of the nation's approximately 18,000 registered auto dealers set to participate, said Bailey Wood, a spokesman for the National Automobile Dealers Association.
But the program has raised "a few things that cause us concern," such as whether a customer would have to pay tax on the program credit, Wood said. The U.S. Department of Transportation says the answer to that question would depend on local sales tax law.
Another issue is whether a new-car buyer would need to have the title to his or her clunker in hand at the dealership, which occurs less than half the time when people trade in their vehicles, Wood said.
"There are a few bumps but, ultimately, we believe that this program is going to be extremely successful," he said.
In at least one way, it already is. Showroom traffic "has ticked up" since the program's official July 1 start date, Wood said.
Key to the program's long-term success will be the death mandated for the clunker: After its oil is drained and replaced with sodium silicate, the engine is run until it seizes. The vehicle must be crushed or shredded.
"The whole point is to take a gas guzzler off the road and replace it with a newer, more fuel efficient model," Wood said. He predicted that a $15,000 penalty will suffice to keep dealers from skirting the requirement.
But the program is not for everyone. "It gives the clunker a little bit more value in terms of trade-in," said Wood, who has no plans to trade in his 2007 Mercedes. "Generally speaking, it doesn't constitute a clunker," he said.
About 250,000 cars are expected to be junked under the program.
E-mail to a friend

CNN's Gerri Willis and Jen Haley contributed to this report.
All About U.S. Department of Transportation • National Automobile Dealers Association • National Highway Traffic Safety Administration