WASHINGTON (CNN) -- The State Department said Thursday it is setting up a free telephone number that foreign exchange students can use to report problems such as those recounted in a recent CNN report.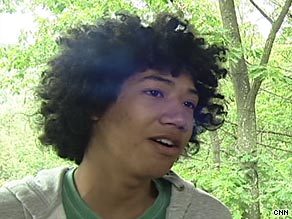 Exchange student Carlos Villareal of Colombia says he was underfed and kept in "an unsafe environment."
It also is scheduling visits to government-funded exchange programs, the department said in a news release, and is asking for a government management audit of such programs to ensure proper oversight.
The actions follow a CNN report that detailed complaints of mistreatment from international students staying in Scranton, Pennsylvania.
The report told of five students from Europe, Africa and South America who said they suffered neglect, malnourishment and abandonment at the hands of those who hosted them as they took part in a study-abroad program.
The five students were among 12, some of whom were on State Department grants, that the San Francisco-based Aspect Foundation placed in Scranton.
District Attorney Andrew Jarbola of Lackawanna County, Pennsylvania, has convened a grand jury to look into the families where the students were placed, as well as the Aspect Foundation and its officials.
"In my opinion, [the students] were treated kind of crudely," Jarbola has told CNN. "Not provided the proper food, hygiene and things of that nature. And the areas they were placed? I know one of the students was placed in a home with a convicted felon -- convicted of drug trafficking or drug offenses -- and that is very disturbing to me."
He said some students were so malnourished that one was treated in a hospital for dehydration and another passed out at school.

Watch a report on students who complained »
The families who housed the students say the allegations are untrue, and the Aspect Foundation disputes some of the details.
An exchange-student watchdog group told CNN the State Department has been slow to respond to complaints, and when it does, responds by asking sponsors to investigate themselves.
"It's self-regulated, unmonitored, under-reported," said Danielle Grijalva, director of the Committee for Safety of Foreign Exchange Students. She showed CNN e-mails from the State Department that said only an "involved party" can lodge a complaint, a policy that she says ignores watchdog groups like hers.
State Department spokesman P.J. Crowley previously told CNN that the Scranton situation showed the department "tended to inspect by exception. Only when we were aware of dire circumstances did we send an investigator out."
"We do recognize that the oversight of this program at the State Department was not strong enough, not aggressive enough," he said.
Aspect Foundation first denied any problems existed, then said it had corrected them and fired its local coordinator.
"Based on their own investigation and verification from county children and youth officials, Aspect Foundation was led to believe that none of their students in northeastern Pennsylvania was abused, malnourished or dehydrated," said a statement issued by a public relations agency on behalf of the foundation.

It also said that the Lackawanna County Children and Youth Services agency reported no Aspect Foundation students in Scranton required medical attention and only three were relocated.
But the statement also said Aspect "fully acknowledges that what happened in Scranton, Pennsylvania, was deplorable and in complete violation of their own strict standards and those of the Department of State's Exchange Visitor Program."
E-mail to a friend

CNN's Marcus Hooper, Drew Griffin and Kathleen Johnston contributed to this report.
All About U.S. Department of State • Scranton