WASHINGTON (CNN) -- In the wake of a deadly June accident, the National Transportation Safety Board on Monday put out a rare recommendation for the Washington Metro to install a system that would automatically warn operators if train sensors behave erratically.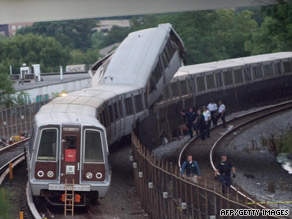 Investigators are shown at the crash scene in Washington. Nine people were killed in the June 22 accident.
Washington's Metro reacted almost immediately, saying it would follow the recommendation as soon as possible but that no current warning system fits the bill.
"It is important to know that there are currently no systems available commercially that could provide the Metro system with the kind of alerts that the NTSB has recommended, and that such a system must be invented," Metro said.
In the meantime, Metro is continuing to operate trains on a manual mode to reduce the chance of another accident, Metro said.
The NTSB still has not determined the cause of the crash that killed nine near the Fort Totten station June 22. But Metro has acknowledged a review of computer data revealed a "track circuit" in the area of the crash had behaved erratically in the days before the accident.
The system fluctuated, intermittently indicating the track was occupied and unoccupied. No other circuit in the system shared the same problem, Metro said.
Since the accident, Metro has assigned someone to review the recorded data once a day to identify track circuit anomalies, but daily reviews are "not sufficient to address this safety issue," the NTSB said Monday.
"The NTSB believes that (computer software or hardware) could be developed to continuously evaluate" track data and alert operators when problems are detected, the NTSB wrote in a letter to Metro. Those alerts should immediately slow or stop trains, the NTSB said.
Metro said it is working on developing a system "specifically tailored to Metro," but said systems being used by others, such as San Francisco's Bay Area Rapid Transit (BART), "would not meet our unique needs."
"Metro is in the process of contacting vendors who have the expertise needed to help us develop this service, and we are preparing cost estimates on this application," the transit system said.
The NTSB and Metro said the Washington accident has implications that reach far beyond Metro.
Accordingly, the NTSB also sent a letter to the Federal Transit Administration asking it to notify other transit systems "of the problems identified thus far" in the Washington investigation.
Meanwhile, an industry group, the American Public Transportation Association, is convening an independent panel of experts in signal systems to study the issue even before the NTSB has finished its investigation. And a House of Representatives subcommittee will hold a hearing Tuesday on the Metro accident.
Metro General Manager John Catoe, NTSB member Deborah Hersman and a witness to the crash are among those scheduled to testify.

E-mail to a friend

All About Washington, DC • U.S. National Transportation Safety Board • Rail Accidents