From Chris Lawrence
CNN





WASHINGTON (CNN) -- You've seen the iconic picture of a soldier with a cigarette dangling from his mouth, but that could soon be a thing of the past.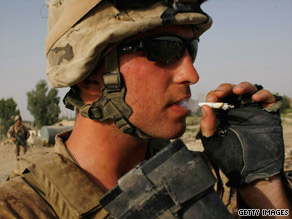 The Pentagon is considering a ban on the sale and use of tobacco in the military.
A new study commissioned by the Pentagon and the Department of Veterans Affairs recommends a complete ban on tobacco, which would end tobacco sales on military bases and prohibit smoking by anyone in uniform, not even combat troops in the thick of battle.
According to the study, tobacco use impairs military readiness in the short term. Over the long term, it can cause serious health problems, including lung cancer and cardiovascular disease. The study also says smokeless tobacco use can lead to oral and pancreatic cancer.
The Defense Department's top health officials are studying the report's suggestions and will make recommendations to the Pentagon's policy team and Defense Secretary Robert Gates.
The study recommends phasing out tobacco products such as cigarettes and cigars over a five- to 10-year period.
However, the suggested ban does not sit well with many in uniform, including retired Gen. Russel Honore, best known for coordinating military relief efforts for Hurricane Katrina-affected areas with an ever-present stogie. He said soldiers at war need to puff.
"When you're tired and you've been going days on end with minimum sleep, and you are not getting the proper meals on time, that hit of tobacco can make a difference," said Honore, who was in charge of the Army's training programs before he retired.
Other soldiers questioned whether this was a good time to stamp out smoking, given the Army's concern with a high suicide rate.
"For some, unfortunately, they feel that smoking is their stress relief. Well if you take it away, what is the replacement?" said Sgt. 1st Class Gary Johnson.
The Pentagon supports the goal of a tobacco-free military, said spokeswoman Cynthia Smith.
"However, achieving that goal will depend on coincident reductions of tobacco use in the civilian population," she said.
Dr. Ken Kizer, the author of the study, found that civilians don't smoke as much as soldiers. One in three active duty soldiers smoke, he said, adding that among the general population, that number is less than one in five.
The Pentagon banned smoking in buildings on bases years ago. It has counselors on call to help service members quit. But while local governments have heavily taxed tobacco, the commissaries often sell it at deeply discounted prices.
"The military sends very mixed signals," Kizer said. "This is what's confusing to people."
The study found that profits from those tobacco sales -- $80 million to $90 million -- often pay for recreation and family programs on base.
E-mail to a friend

All About U.S. Department of Defense • The Pentagon