WASHINGTON (CNN) -- Nearly two years after the disappearance of adventurer Steve Fossett, investigators on Thursday determined that strong winds probably downed his plane.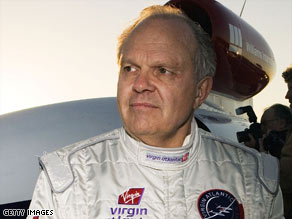 Steve Fossett was the first person to fly a plane around the world solo without refueling.
Investigators said that downdrafts -- strong downward currents of air -- along with thin air and a mountainous terrain contributed to the crash, the National Transportation and Safety Board said in its report on the accident.
The board's findings are in line with witness testimony revealed in the agency's March report: Fossett's single-engine craft was fighting headwinds.
Fossett took off from the airport of the Flying M Ranch outside Minden, Nevada, on September 3, 2007, for what his wife described as "a Sunday drive," according to the report.
Fossett, a daring adventurer, in 2002 became the first person to circle the globe solo in a balloon, and three years later was the first to fly a plane around the world solo without refueling. He also set world records in round-the-world sailing and cross-country skiing.
Before his last flight, Fossett commonly used his plane for spotting cattle. It had been involved in an accident earlier in the year, in May, when it hit a barbed-wire fence during a landing roll. A new speed propeller was put on the plane and it was returned to service a month later, flying 10 to 12 hours since, according to the report.
On the day Fossett took his "Sunday drive," officials received no emergency transmissions from him, the report said. Investigators failed to find him or the two-seat Bellanca after a monthlong search, the report said.
Searchers eventually discovered the wreckage more than a year later at an altitude of about 10,000 feet near Mammoth Lakes in the Sierra Nevadas, after a hiker in October 2008 reported finding Fossett's personal effects.
Investigators then found the crash site, as well as more of Fossett's personal effects, including tennis shoes and his driver's license, according to the report.
Bone fragments recovered at the crash site could not be "definitively identified as human," the report said, but authorities confirmed through DNA tests that skeletal fragments were those of Fossett.
The cause of death was multiple traumatic injuries, the report said.
E-mail to a friend

All About U.S. National Transportation Safety Board • Steve Fossett