WASHINGTON (CNN) -- Police arrested 26 demonstrators at the U.S. Capitol on Thursday during a protest of federal AIDS policy, a Capitol police spokeswoman said.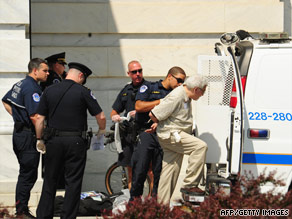 A man is placed in a van Thursday after being arrested on suspicion of unlawfully demonstrating in the Capitol.
Police arrested the protesters on suspicion of unlawful assembly and disorderly conduct at the Capitol rotunda, spokeswoman Sgt. Kimberly Schneider said. The protesting group, Health Global Access Project, said in a statement that 27 people were arrested.
The 10 a.m. demonstration by dozens of AIDS activists for increased funding of AIDS programs coincides with this week's congressional talks over the financing of a health care reform plan.
Members of Health Global Access Project entered the busy rotunda and chained themselves together with plastic chains, Schneider said. They lay on the ground holding up signs while some amused bystanders watched as police tried to persuade the protesters to disperse. Police took those who refused into custody.
Group members knew they risked arrest, the group said in its statement, but they wanted to grab the attention of lawmakers and President Obama, who they accused of creating a "flawed budget proposal" that did not include critical HIV/AIDS funding.
"HIV is not in recession," Omolola Adele-Oso of DC Fights Back said in the statement. "So why are we bailing out the bankers with $9 trillion, but breaking promises to fund life-saving AIDS programs in the U.S. and around the world at a fraction of that cost?"
The group wants increased HIV/AIDS funding in the health care plan and requested that the government "fully fund" global AIDS programs and housing programs for low-income AIDS sufferers, they said. They argue that the administration's budget proposal "essentially flatlines global AIDS funding."
Don't Miss
HIV/AIDS funding increased for 2010 under a Department of Health and Human Services budget.
Obama applauded former President Bush in December for his funding of global AIDS programs and said he planned to continue the work for AIDS relief in Africa. About 33 million people worldwide have HIV, according to the World Health Organization.
The Centers for Disease Control and Prevention estimates that about 1.1 million people living in the United States are infected with HIV/AIDS. More than 13 percent of those newly diagnosed in 2006 transmitted the disease through injection drug use, the CDC reported.
Health Global Access Project also wants Congress to lift the federal ban on funding syringe exchange so clean needles are available to users, Jose De Marco said in the statement. De Marco, who has HIV, is a member of the AIDS activist organizations ACT UP Philadelphia and Proyecto Sol Filadelphia.
E-mail to a friend

All About HIV and AIDS • Barack Obama • U.S Department of Health and Human Services