(CNN) -- What's a July Fourth celebration without fireworks? Many cities across the United States will find out Saturday.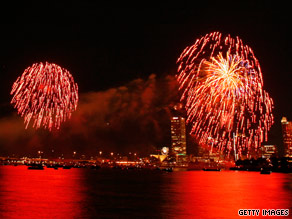 Milwaukee holds its lakefront show on July 3, so as not to compete with surrounding communities.
As municipalities grope for ways to shore up budgets, expensive pyrotechnics displays are becoming the latest victims of the economic downturn.
"They need to have things in the community like that to keep things going. So I'm sad to see it going," said Seth Stolz, of Flint, Michigan, which will go without its traditional July Fourth explosions in the sky this year, according to CNN affiliate WJRT. He was accustomed to watching the show from his home.
The Greater Flint Arts Council puts on the show every year, and when the city and county said they couldn't afford the $40,000 for the Flint Fireworks Festival, it was canceled last month.
Private donors tried to save it, but the mayor expressed concerns that safety measures might be overlooked if the event was hastily organized, WJRT reported.

Watch how town brings bikinis into the mix »
"Yeah, a very hard decision to make," Greg Fiedler with the arts council, told the station.
In Florida, Miami-Dade County canceled one of its two shows to save about $40,000, CNN affiliate WPLG reported. The Monterey, California, City Council in April also nixed its show and accompanying lawn party to save about $150,000
"Although the 4th of July festivities are a very popular community-wide event, we cannot recommend continuation of this costly one-day event during a fiscal downturn," a city staff report said.
Don't Miss
In Illinois, CNN affiliate WLS-TV reported that Harvey, Berwyn, Elgin, Gurnee and North Riverside had canceled their shows.
Blue Springs, Missouri, a suburb of Kansas City, also 86'ed the pyrotechnics to give the city "some immediate budget relief," city officials told CNN affiliate KCTV.
The American Pyrotechnics Association says that despite the economic challenges, fireworks display companies are working with their clients to make sure the shows go on. Communities are also finding alternative funding or cutting back to make sure the sky rockets light up their July Fourth sky.
The nation hosts about 14,000 fireworks shows each Independence Day, according to the association, and the majority of shows will prevail because communities "realize the importance of continuing this annual tradition of providing their citizens with free entertainment to celebrate our freedom and independence," Julie Heckman, the group's director, said in a statement.
"The industry has been tested time after time and each challenge unites the industry, makes it stronger, and ensures that communities do not go dark on Independence Day," Heckman said. iReport.com: How are you celebrating the Fourth of July?
The Illinois towns of Elmhurst and Wooddale couldn't foot their own shows, so they chipped in funds for the show in nearby Bensenville, WLS reported. Evanston, Illinois, had to shorten its show, and North Aurora forewent its own show in favor of bolstering the celebration in neighboring Aurora, CNN affiliate WGN reported.
Tucson, Arizona, canceled it's $55,000 fireworks display to save money, but CNN affiliate KGUN reported Friday that private donors stepped in to save the celebration.
Joliet, Illinois, almost canceled its 63rd annual skyrocket display because businesses weren't able to send their customary donations. The show had a $23,000 price tag, but local businesses could muster only about $14,000, according to WGN.
City residents were not content to go without fireworks Saturday.
"It's a tradition in Joliet. It's an American tradition. You can't give up on that," said Robert Svarz, who has been attending fireworks shows in Joliet for 50 years, according to WLS.
Residents scraped together the remaining $9,000 to make sure the city staged its show, which draws thousands to Joliet Memorial Stadium and the surrounding parking lots each year.
"Not only did they send in contributions, but they all sent notes on how important it was to keep this thing alive," Russ Slinkard, CEO of the Joliet Region Chamber of Commerce, told WLS.
Despite Chicago's budget crisis, a spokeswoman for the mayor's office told WGN that there will be no cutbacks to the Windy City's fireworks display.
Fireworks also will be part of Milwaukee, Wisconsin's, celebration, as U.S. Bank has sponsored the hourlong, lakefront show for the past few years. The city holds its show the day before Independence Day to not compete with surrounding communities' shows.
Middletown, Connecticut, also held its celebration early, on Thursday -- but for a different reason.
Holding the celebration on Saturday would have meant $20,000 in overtime pay for city workers, on top of the $65,000 bill for the actual show, Mayor Sebastian Giuliano told CNN affiliate WTNH-TV.
Rescheduling the celebration had an added bonus: Businesses that usually close for the holiday were able to cater to the crowd of about 15,000.
At least one community had no problem finding the funds for this year's festivities. In fact, Olive Branch, Mississippi, more than tripled its budget, according to CNN affiliate WPTY-TV.
The town seemed split over the move. While one resident said it would be "unfair" to deprive the town of the show, another said upping the fireworks budget from $10,000 to $35,000 seems irresponsible, WPTY reported.
So, what about people who don't live in towns like Olive Branch? What are their options when their fireworks shows are canceled? Well, they can always enjoy a show in another town, or -- as Blue Springs Mayor Carson Ross suggested to KCTV -- put on their own show.

Watch the safeguards you should take »
Blue Springs is one of the few western Missouri towns that allows residents to shoot their own fireworks, and indeed, the American Pyrotechnics Association reported last month that the popularity of backyard fireworks had more than doubled since 2000.

However, those who aren't mindful of the laws in their city could find the economic downturn taking an even greater toll. Milwaukee Alderman Bob Donovan told CNN affiliate WTMJ-TV that the city is serious about stopping backyard fireworks.
Because no one respected the ban last year, the city is "going to hit them in the pocketbook," he said. The fine for each citation? $676.
E-mail to a friend

All About Tucson • Joliet (Illinois) • Holidays • Milwaukee