(CNN) -- In September of 2006, President Bush announced that 14 suspected terrorists who were being held in CIA custody had been transferred to the U.S. prison camp at Guantanamo Bay, Cuba.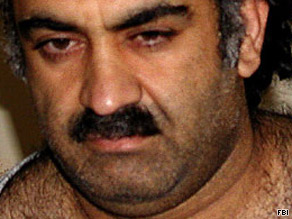 Alleged 9/11 planner Khalid Sheikh Mohammed was held in secret and moved to Guantanamo Bay, Cuba.
The men were to be tried before military tribunals.
U.S. officials have said the suspects are linked to terrorist plots -- both successful and thwarted.
Those terror plots include the 2002 bombings on the resort island of Bali, the September 11, 2001, attacks, the 2000 bombing of the USS Cole in Yemen and the 1998 attack on the U.S. Embassy in Tanzania.
During a news conference acknowledging the transfer of these prisoners, Bush told reporters what set them apart from other U.S. captives.
"These are dangerous men with unparalleled knowledge about terrorist networks and their plans for new attacks," said Bush.
Don't Miss
He said "questioning the detainees in this program has given us information that has saved innocent lives by helping us stop new attacks -- here in the United States and across the world."

Bush said the prisoners would be questioned at the Guantanamo prison "subject to the new U.S. Army Field Manual" and "they will continue to be treated with the humanity that they denied others."
"I want to be absolutely clear with our people, and the world: The United States does not torture," said Bush. "It's against our laws, and it's against our values. I have not authorized it -- and I will not authorize it."

Although President Obama has promised to close the prison at Guantanamo Bay, prisoners there still face military tribunals.
One of the 14 men has been moved from Guantanamo to U.S. soil and is being tried in federal court.
E-mail to a friend

All About USS Cole • Tanzania • Guantanamo Bay