ATLANTA, Georgia (CNN) -- The firm that oversaw the construction of an Atlanta parking garage that collapsed Monday was fined this month in the December collapse of a walkway at the Atlanta Botanical Gardens, a spokeswoman said.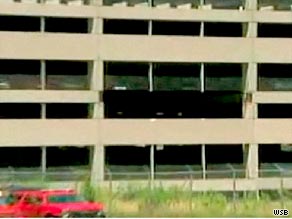 Officials are trying to make sure no one is trapped in the Atlanta parking garage where a floor collapsed.
Hardin Construction LLC of Atlanta was one of three companies found liable in that incident, according to Hardin spokeswoman Barkley Russell. One worker was killed and 18 were injured in the collapse.
The three firms -- Hardin, Williams Erection Co. and Southeast Access, all of the Atlanta area -- were collectively fined $26,250 in the walkway collapse, according to documents from the federal Occupational Safety and Health Administration. Hardin is appealing its portion of the fine, $6,300, Russell said.
The garden bridge was being built as part of the gardens' expansion. OSHA determined that the walkway's formwork was not properly braced to support weight, according to the documents.
Meanwhile, search and rescue operations entered their second day Tuesday at the Midtown parking garage, with officials saying they wanted to be absolutely sure no one is trapped inside.
Searchers found no sign of victims, but "we're not going to take any chances," said Bobby Stewart, an Atlanta Fire Department spokesman. "We're going to search every corner, every confined space, every spot in the parking deck, as well as every single vehicle in the parking deck" to make sure no one is inside.

Watch residents describe what it was like to be near the garage collapse »
He noted that calls regarding the collapse came in about 12:20 p.m. Monday, and some people could have been using the 1,415-space deck during their lunch breaks.
Fire officials began towing cars one by one out of the Centergy deck and by 3 p.m. Tuesday had removed 57 vehicles, said Dawane Wanek, a spokesman for Compiled Logic, a company assisting the police with sorting the cars.
Don't Miss
Workers used a crane to extract the cars from the massive, grave-like hole created by the collapse. One red coupe looked almost flattened, its front bumper hanging, its windshield shattered and its trunk crushed.
Drivers who parked in the garage Monday cannot retrieve their cars, yet, said Maj. Calvin Moss of the Atlanta Police Department.
Instead, they can track the location of their vehicle via a Web site, ga.towedcar.com, Wanek said. Owners need to input their license plate number or vehicle identification number once they load the site's page. From the site, owners can learn whether their vehicle suffered damage and the severity of the damage, he said.
Moss said he's not sure when authorities will complete the recovery process.
The deck was completed in December 2002 by Hardin Construction, and it passed inspection then, Russell said. Hardin Construction managed the schedule and budget of the project, she said, but Greenville, South Carolina-based Metromont Corp. actually built the parking deck.
Metromont CEO Rick Pennell and a design team were at the site Tuesday, helping officials assess the safety of the remaining parking structure, Pennell said in a statement.
"Metromont Corp. is committed to providing whatever assistance, professional expertise or additional resources may be requested in this matter," he said.
The deck is usually busy, with cars and people constantly in and out, said Nancy Bistritz, who parks there. Bistritz, the director of marketing and communications for interactive advertising agency Nurun, said she was relieved that officials believe no one was hurt, saying that would be an "amazing" occurrence.
Bistritz believes that her car is unhurt, as she parks on the side opposite the collapse. She doesn't know for sure, however, as she and other employees have been barred from entering or leaving the deck, and she doesn't know when she will be able to retrieve her car.
The property management company, Fifth Street Management, distributed a one-page fact sheet to employees Tuesday, but it offered no information on when they would be allowed to claim their cars, Bistritz said. Employees were also asked to give their names, a description of their cars and an approximation of where they parked, she said.
She said she got more information from a local news account Tuesday that quoted Atlanta Fire Chief Kelvin Cochran as saying it would be two to four days before people would be allowed inside. The report also said operations were halted for several hours Monday night because of shifting in the structure; Bistritz said she wasn't told that either.
"I'm really not comfortable walking in that deck," she said, but "I just kind of want to know what the game plan is."
Fifth Street Management referred questions to the Schroeder Public Relations firm. President Chris Schroeder said the company understands workers' frustration, but "we are at the mercy of the public safety personnel in charge."
He said the company is trying to keep workers updated, sending e-mails and making intercom announcements Monday and then distributing the fact sheet Tuesday.
Stewart said the department's 24-hour operation ended at 1 p.m. Tuesday, but other agencies have work to do after that. He predicted that it would be at least 24 hours before workers could retrieve their cars. Some cars that were in the way of operations have been towed away, he said.

Bistritz said she got a ride home from a friend Monday and was planning to drive her parents' car Tuesday, as they are out of town. "Then it was like, where am I going to park?"
She said she wound up taking public transit to work.
E-mail to a friend

CNN's Ashley Broughton contributed to this report.
All About Atlanta