(CNN) -- People who were aboard the Washington subway trains that wrecked Monday described scenes of severely injured victims and of passengers trying to help one another.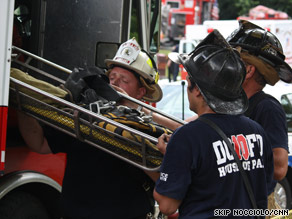 Firefighters pull a stretcher off a firetruck at the scene of Monday's D.C. Metro crash.
"I was just playing on my cell phone, [and] there was an abrupt bang," David Holland, who was on the train that struck the train in front of it, told CNN affiliate WJLA. "It threw us up and then forward.
"There was so much dust. I've never seen so much dust. People were just discombobulated, crying," he said. "I think I'm one of the lucky ones who actually made it out."
Nine people were killed and dozens injured when one Metro train slammed into the rear of another just before 5 p.m. Monday. Officials with the National Transportation Safety Board and other agencies are investigating how the crash occurred.
A certified nursing assistant who was on one of the trains told CNN affiliate WUSA that she gave first aid to others, including a woman who appeared to be in her 20s.
"She is very, very torn in her legs -- the muscles and everything are torn, ripped through. She had metal pieces in her face," said the nursing assistant, who gave only her first name, Jeanie.

Watch what officials know about the crash »
Other witnesses described finding their way out through twisted metal wreckage.
Don't Miss
Tom Baker, who also was aboard the trailing train, told WUSA that in the moments after the crash, "I saw the entire car basically crumpling up on top of the first train. And when the smoke cleared, the whole front of that car was actually either open or it was missing."
"When we looked to the left, we saw the front car; it was straight up in the air. People were trapped in the train and [lying] on the ground," passenger Serena McBride told WJLA.
"There was smoke and other chemical toxic smells coming out of the car in front," passenger Tracey Paddock told WUSA. "We tried to help break the door down to get those other people in, but we couldn't do it because of the structure of the car."

See images of the scene »
Jasmine Garsd, who also was on the moving train, said on CNN's "Larry King Live" that the crash "was like nothing I've ever felt before."
"It was like we hit a concrete wall," said Garsd, who lives in Washington. She said the lights went off and smoke started filling the car.
"Panic kind of ensued. I mean, the doors didn't automatically open. People started pounding against the doors. Eventually, somebody opened one of the doors, and there was a Metro employee who took us all off," she said.
She and others around her, including a woman who Garsd said was seven or eight months pregnant, waited a while and then decided to walk back to the previous train station.

Watch injured passengers limp away »
"In the moment that this happened, it was like a deserted island. Nobody knew what was going on. It was silent," she said. "We walked for 20 minutes on the track, and there was a barbed wire fence, and you don't realize the distance that you cover" while riding the subway.

See the location of the crash »

Passenger Savannah Green was thankful that a change in her routine may have saved her.
"I'm so happy that I was too lazy to walk to the front to get near the escalator, because I would have been on that front car," Green told WUSA.
E-mail to a friend

CNN's Jim Kavanagh contributed to this report.
All About Washington, DC • Accidents and Disasters