(CNN) -- A New York Times reporter who was held by the Taliban for seven months has escaped, the newspaper reported Saturday.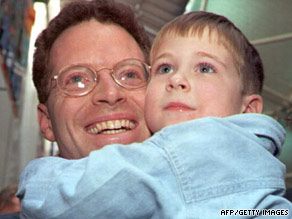 New York Times reporter David Rohde, shown in 1995, escaped from the Taliban.
David Rohde told his wife, Kristen Mulvihill, that he and a local reporter, Tahir Ludin, climbed over the wall of a compound late Friday where they were being held in the North Waziristan region of Pakistan.
Pakistani military spokesman Gen. Athar Abbas told CNN that the Pakistani military was involved in freeing Rohde. Additional details were not immediately available.
U.S. Secretary of State Hillary Clinton issued a statement expressing her relief about Rohde's "return to freedom."
"I would like to thank the governments of Pakistan and Afghanistan for their assistance in ensuring his safe return," Clinton said. "Journalists put themselves at risk every day to report the news in regions gripped by conflict. We rely on their vital role and I am grateful for their service."

Watch CNN's Nic Robertson report on the escape »
Rohde, Ludin and their driver were kidnapped outside of Kabul, Afghanistan, on November 10, and Afghan and Western officials said recently that Rohde was being held in Pakistan.
After leaving the compound Friday night, the two men then found a Pakistani army scout who led them to a nearby army base. On Saturday, they were flown to Bagram Air Base in Afghanistan, the newspaper said.
A U.S. official told CNN that Rohde will arrive in Dubai in the United Arab Emirates at 10 p.m. Saturday.
"They just walked over the wall of the compound," Mulvihill said, according to the newspaper. Ludin hurt his foot during the escape, but otherwise both men appear to be in good health, the newspaper said.
The driver, Asadullah Mangal, did not escape, the newspaper said.
"It is hard to describe the enormous relief we felt at hearing the news of David and Tahir's escape and knowing he is safe," a statement from Rohde's family said.
"Every day during these past seven months, we have hoped and prayed for this moment," said the statement, which was provided to CNN by The New York Times .
It asked that the family's privacy be respected.
White House press secretary Robert Gibbs said the White House was "very pleased to see that David Rohde is now safe and returning home."
"This marks the end of a long and difficult ordeal for David's family, friends and co-workers. The FBI has been the lead agency on his case, and we refer you to them for any further information," he said.
Don't Miss
The New York Times and other media outlets had kept the kidnapping quiet out of concern for the men's safety.
"From the early days of this ordeal, the prevailing view among David's family, experts in kidnapping cases, officials of several governments and others we consulted, was that going public could increase the danger to hostages," The New York Times said in a written statement.
"Therefore, we did not publicly discuss the kidnapping. We are deeply grateful to the other news organizations that honored our request to refrain from reporting on it."
A Taliban spokesman told CNN several weeks ago that the Taliban had released two "proof of identity" videos and had demanded negotiations.
The Taliban wanted some of its leaders in U.S. custody to be released as well as money, the spokesman said.
Rohde, 41, had traveled to Kabul in early November to work on a book, The New York Times said.

He won a Pulitzer Prize in 1996 for his reporting on the Srebrenica massacre in Bosnia while working for The Christian Science Monitor.
He was also part of The New York Times reporting team that won a Pulitzer Prize in May for coverage of Afghanistan and Pakistan last year.
E-mail to a friend