By Adam Reiss
CNN





NEW YORK (CNN) -- A Brazilian federal judge has issued a ruling making it possible for David Goldman to have more access to his son Sean in the ongoing custody battle over the boy, Goldman's attorney said Friday.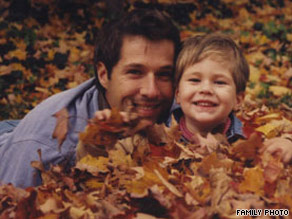 A Brazilian court ruled David Goldman can have custody of his son, Sean, but in Brazil, not in the United States.
The Brazilian court said Thursday it will allow Goldman to visit with his son unsupervised every week from Monday morning through Saturday evening. The problem is he must do it on Brazilian soil, not in New Jersey where he lives.
Patricia Apy, Goldman's attorney, predicted Sean's stepfather will file an appeal. In the meantime, she said, David Goldman will likely take advantage of the ruling and visit Sean soon, "despite his severe reluctance to engage in such behavior, given the observations of the Goldman family's behavior toward Sean in response to his visits."
The boy's Brazilian family has already threatened to take the matter back to the Brazilian Supreme Court, which has ruled it does not have jurisdiction.
This comes several days after reports that Sean's stepfather hired a private psychiatrist to question Sean about whether he wants to stay in Brazil or return home to New Jersey.
According to a court transcript, Sean told a psychologist he wants to stay with his stepfamily in Brazil rather than return to live in the United States with his biological father.
In the transcript released Wednesday by the Brazilian family's lawyers, Sean Goldman told the psychologist that if he is sent back to New Jersey to be with David Goldman, he will "break down totally."
Last week, Brazil's highest court said it does not have jurisdiction over who should have custody of the U.S.-born 9-year-old boy -- his Brazilian stepfather or his father in the United States.
The incident began in June 2004, when Goldman's then-wife, Bruna Bianchi Carneiro Ribeiro, took Sean from the family's New Jersey home for what was to have been a two-week vacation in her native Brazil.

Watch why Goldman is hopeful his son will be returned to him »
But instead of returning, she and the boy stayed in Brazil, where she divorced Goldman and married a Brazilian lawyer. She died there in September 2008 giving birth to a daughter. In Rio, Sean attends a private school and lives in a sprawling home with his half-sister and his stepfather.
In March, Helvecio Ribeiro, a spokesman for the boy's Brazilian relatives, said the stepfather did not dispute the father's biological rights, but said other matters needed to be weighed.
"The fact of the matter is that, in order to be a parent, you have to be more than a DNA donor," Ribeiro said. "Fatherhood is not about making home movies and taking pictures. It's about sacrifice; it's about providing support for your child; it's about being there even when you are not there."
He said Goldman had failed to do that, and accused him of having "paid not a dime of child support" and made allegations "all over the place about us not allowing him to visit the child that are completely untrue."

Goldman responded, "Can you take someone's child to another country and then expect the parent to support you in the abduction of the child?"
He said he had been making tireless efforts since his son was "abducted" to have him repatriated.
E-mail to a friend

All About David Goldman • Brazil • New Jersey