(CNN) -- Iraqis fleeing violence in their homeland are struggling in America, where they had hoped to make new lives, said a report issued Tuesday by an agency that helps resettle refugees across the United States.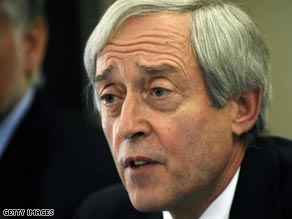 IRC President George Rupp, shown speaking last year, says Iraqi refugees in the United States "deserve better."
The International Rescue Committee report urged the U.S. government to ratchet up its programs to avoid widespread poverty and hardship among newly arrived Iraqis.
It said the federal government needs to vastly improve its "outdated" and "underfunded" refugee admissions program, which "fails individuals with high levels of vulnerability, especially during difficult economic times."
"Nearly all of the Iraqis we surveyed had expectations that they would receive better care from a government whose policies had a hand in their upheaval, particularly those who put their lives on the line to work for the U.S. military and government and were targeted as a result," said George Rupp, president of the International Rescue Committee.
"Few imagined that they would receive such short-term and limited assistance upon arrival or that they could become homeless in the country that offered them shelter," Rupp said. "They deserve better."
In 2008, the United States admitted 13,823 refugees from Iraq.
Rupp and his colleagues spoke with some of them when they visited regional offices in Atlanta, Georgia, and Phoenix, Arizona, in April. On each stop, they heard frustration, exacerbated by the current economic downturn.
Don't Miss
Though grateful to be in America, the Iraqis told the refugee experts that they had been unable to secure jobs and had exhausted available resources. Many faced eviction from their apartments and feared a life of poverty. Some pondered whether the life they left behind, though mired in fear, might have served them better.
The State Department allots $450 per refugee. Individual refugees also are eligible to get eight months of cash assistance and medical assistance under the Health and Human Services Office of Refugee Resettlement.
Refugee families could be eligible for Temporary Assistance to Needy Families benefits and Medicaid, but eligibility varies from state to state.
The International Rescue Committee report recommended an increase in federal assistance and also in the time period of eligibility to receive those funds.
It also recommended that all refugees receive a viable and uniform package of services and assistance, regardless of where they are resettled.
In Atlanta, International Rescue Committee Regional Director Ellen Beattie said joblessness among refugees is the worst in the agency's 30-year history. Only 25 percent of Iraqi refugees were able to find a job in their first six months in the Atlanta area.
Case workers in Atlanta said the allotted $450 runs out fast and allows little time for a newcomer to learn English and the lay of an unfamiliar land.
Compounding the problem for the Iraqis is the fact that many were highly educated professionals in their homeland, and now are disappointed when they cannot find work in their areas of expertise. Even entry-level jobs are now elusive, the report found.
"High numbers suffer emotional trauma, war-related injuries or chronic illnesses," the report said. "Unstable living conditions and uncertainty about the future compound their psychological distress."
E-mail to a friend

All About Iraq • International Rescue Committee