By Jason Kessler
CNN





NEW YORK (CNN) -- A 15-year-old girl with a 500-texts-a-day texting habit thumbed her way to the $50,000 grand prize at the L.G. National Texting Championship in New York on Tuesday.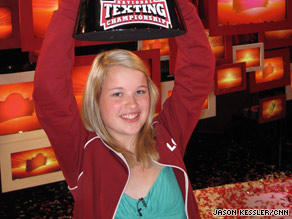 Kate Moore, 15, of Des Moines, Iowa, out-texted more than 250,000 participants for the texting title in New York.
Over 250,000 participants of all ages entered the competition, whose championship rounds were held in New York on Monday and Tuesday and won by Kate Moore of Des Moines, Iowa.

Some challenges were straightforward tests of speed and accuracy, but others required a little extra texting savvy. In one round, texters had to send texts while blindfolded. Another round quizzed contestants' knowledge of texting acronyms.
The only acronym to stump every texter was PAW -- parents are watching.
The fourth-place finisher, 21-year-old Jordan Rowe, saw her dreams of texting glory vanish in the "pressure cooker" round, where actors dressed as emoticons attempted to distract contestants tasked with texting tongue-twisters. Rowe failed to accurately text "Which wicked witch wished which more wicked witch in the well?" while a human emoticon talked trash about her sister.
Riffing off texters' sometimes dangerous tendency to text while performing other tasks, another round required contestants to complete an obstacle course while firing off difficult-to-type texts.
"I felt like I was gonna die," the eventual champion said of the texting gauntlet, getting a big LOL from the audience.
The finals on Tuesday afternoon pitted Dynda Morgan, 14, of Savannah, Georgia, against Moore. The two went head to head in a best-of-three showdown to see who could most quickly pound out lengthy texts predetermined by the judges -- with no errors.
Morgan, whose stepsister also made it to the championships, took the first round.
Faced with a do-or-die situation in the second round, Moore seemed to bet on accuracy over speed, finishing well behind her opponent but winning the round.
In the tiebreaker, the two girls furiously raced to thumb the final text: "Zippity Dooo Dahh Zippity Ayy...MY oh MY, what a wonderful day! Plenty of sunshine Comin' my way....Zippitty Do Dah Zippity Aay! WondeRful Feeling Wonderful day!"
The pregnant pause before the winner was announced stretched into a seeming eternity because Moore apparently forgot to hit send after finishing her text.
But then Moore's phone began to vibrate, signaling that she was the grand champion.
Kate's beaming mother, Claire, acknowledged that she has confiscated her daughter's phone on occasion, but said she appreciates that her daughter's texting habit means she's in constant touch. "I can get ahold of [her] at all times," she said.
Nor does Moore's mother have to foot an appallingly large phone bill each month, because her daughter is on an unlimited texting plan. She did concede that the texting portion of one of Moore's recent phone bills stretched to 294 pages.
Moore's victory was all the more awe-inspiring because she got a phone with text capability less than a year ago.
Moments after her victory, Moore agreed to an exclusive text message interview with CNN.
CNN: OMG U r ltrlly the wrld's bst txter. How does it feel?
Moore: It feels the best! Im so prd of myself & it feels aswm that ive gottn so far! :)
CNN: How mny txts do u snd a day? A month?
Moore: Uhhh about lyk 400-500 in a day, an avrg of 12014 thousand a month?
CNN: Wht r u going to do w the 50 k?
Moore: Idk yet! Prlly spend a good amount of the $$$......but ya gotta save some 2 b smart of course!
CNN: Do u ever get in trubl in skwl 4 txting 2 much?
Moore: haah just once or 2ce, teachers hv seen it and taken it away...lol that sux when that happens tho.
CNN: What's ur crzst txting story?
Moore: Haha I actually have a scar on my hand from txtingg....i was txting on the top bunk and I sat up cuz it was a cool txt and then I hit it in the ceiling fan
CNN. Do ur thumbs hurt?
Moore: Hahah not at all! Ud b surprised they don't get stressed out.
CNN: Kthxbi.
Moore: cya! :)
E-mail to a friend

All About Cellular Phones • Savannah (Georgia)