WASHINGTON (CNN) -- Regaining the public's confidence in air travel, on every plane at every airport, is imperative, Transportation Secretary Ray LaHood said Monday as he kicked off an air-safety summit.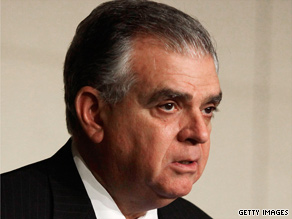 Transportation Secretary Ray LaHood said Monday that officials "intend to act now" on air safety.
LaHood and Federal Aviation Administration Administrator Randy Babbitt called the meeting -- dubbed a "call to action" -- in the wake of the February 12 crash of Colgan Air Flight 3407 near Buffalo, New York. All 49 passengers and crew members on the plane were killed, along with one person on the ground.
The meeting, which was closed to the public and press after opening statements, was attended by representatives from major air carriers, their regional partners, aviation industry groups and labor.
In his opening remarks, LaHood noted that the National Transportation Safety Board is investigating the February incident but said, "some of the issues are far too important for us to sit around and to wait on the NTSB report. We intend to act now. That's why we're here today."
During board hearings, it was revealed that Colgan Air Capt. Marvin Renslow failed to reveal two pilot-exam failures in his job application and that fatigue played a role in the failure of Renslow and First Officer Rebecca Shaw to save the plane as it approached Buffalo Niagara International Airport.
LaHood called for the creation of an "immediate to-do list" aimed at assuring Americans that all air carriers, including regional carriers, are operating as safely as possible.
"Some of the things I've seen and heard about practices in the regional airline industry are not acceptable," Babbitt said in his opening remarks. "Our job is to deliver and ensure safety, and recently we've seen some cracks in the system. We need to look more deeply into what's happening, but the last few months, quite frankly, are an indication that some things aren't right."
He noted the summit is not cause to point fingers. "We might be sitting in different seats around the table, but make no mistake, we are all at the same table."
Both officials said their priorities include setting standards on crew education, training and performance, as well as professionalism and flight discipline.
Babbitt said the "advisory flight circular" on pilot records is being updated, "setting the expectation that airlines request all records that are available from the FAA and previous employers when they hire a new pilot."
He called on aviation officials to devise a recommendation to members of Congress to expand the scope of the Pilot Records Improvement Act, to give employers access to all records in a pilot's file. In addition, he asked them to come up with "tangible, constructive actions that will make an immediate difference in how we operate and how we fly.
"Let me be clear here," Babbitt said. "We need to make moves that we can adopt right away."
LaHood said he is determined to ensure that something good come out of the Buffalo crash.
"Let this be a wake-up call: We can and we must regain the public's trust," he said. "We must inspire confidence in every traveler, every time he or she steps on a commercial aircraft of any size at any airport in our country. This is an enormous responsibility and one that I consider my highest duty to uphold."
E-mail to a friend

All About Ray LaHood • Federal Aviation Administration • Colgan Air Inc.