By Joe Sterling
CNN





(CNN) -- The pilot of a helicopter that went missing near a mountain in New Mexico talked to dispatchers just after the craft struck a mountainside, a state official told CNN.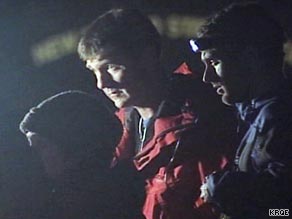 Members of a rescue team gather at a command center early Wednesday in the hunt for the missing copter.
"Are you 10-4?" a dispatcher asked the pilot, inquiring if he was OK.
"Not really," the pilot replied.
After this brief communication, the pilot and dispatchers lost touch.
Rescuers were trekking across a mountain Wednesday in search of the missing state police helicopter.
Peter Olson, a spokesman for the New Mexico Department of Public Safety, said searchers could be a mile away from the aircraft.
A team of about 25 volunteers endured bitter cold, heavy snowfall and poor visibility as they scoured the wilderness for the helicopter -- missing Tuesday night shortly after picking up a lost hiker in the Santa Fe National Forest, Olson said.
At one point, searchers thought they were within a half-mile of a transponder signal. Olson said searchers now believe the signal from the craft indicates it could be a mile away from them.
"We will get there eventually," he said.
Fresh teams were taking the place of the searchers who worked overnight. The National Guard was deploying to set up a base camp and will set up tents for rescuers so they can warm up in the below-freezing, 12,000-foot-high area.
Authorities are unable to dispatch aircraft to help in the search because of the poor visibility and the dangers of icing.
Officials said they hope the precipitation will lift around midday, enabling them to send two Civil Air Patrol planes and two National Guard Black Hawk helicopters out to search for the chopper.
"Right now it's impossible," Olson said of deploying air resources in the search.
The chopper had been dispatched to pick up the lost hiker Tuesday night, Olson said.
A pilot and a spotter were on board the helicopter. It had picked up a woman in the mountainous Santa Fe Ski area and was lifting off when it dropped off from radio contact about 9:30 p.m. local time, Olson said.
E-mail to a friend

All About New Mexico