LOS ANGELES, California (CNN) -- A chain-reaction wreck involving at least 15 vehicles Wednesday morning stopped northbound traffic on Interstate 15 in San Bernardino County, California, police said.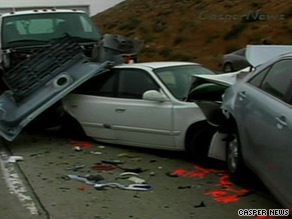 A multi-vehicle wreck stopped traffic on a popular route between Los Angeles and Las Vegas.
The pileup began when two tractor-trailer collided in a dense fog at 7:30 a.m., California Highway Patrol officer Mario Lopez said.
All northbound lanes through the Cajon Pass, about 40 miles northeast of downtown Los Angeles, were closed as crews cleared the wreckage and cleaned up a fuel spill, Lopez said.
No serious injuries were immediately reported.

Initial police estimates of the number of vehicles involved range between 15 and 50.

Watch the pileup of vehicles »
The highway is a popular route for those traveling between Los Angeles and Las Vegas, Nevada.
E-mail to a friend

CNN's Rosalina Nieves and Lynn Lamanivong contributed to this report.
All About Los Angeles