From Laura Batchelor
CNN





NEW YORK (CNN) -- Commuters on the New York-New Jersey Port Authority Trans-Hudson (PATH) rail system will have added security screening Wednesday as part of a month-long pilot program, according to a news release from the Port Authority of New York and New Jersey.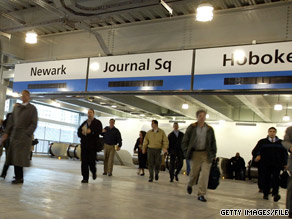 Riders of the New York-New Jersey PATH trains will see a new security system in place on Wednesday.
The screening system is called the Passive Millimeter Wave. It can detect threats, including explosive devices, hidden under clothing, the Port Authority explained in the news release.
The Transportation Security Administration and the Port Authority stress that there is no current threat to the mass transit system, nor do they anticipate delays for commuters from the new technology, which has already been tested at several other transit locations.
The Passive Millimeter Wave "detects threats by analyzing the energy generated by the human body," according to TSA spokesperson Lara Uselding.
The camera-like device displays an image for operators, and "an indicator produces a strength bar from green to red that indicates the presence/absence of anomalies that could have security implications, including the possible presence of explosives," according to the TSA Web site.
The TSA and the Port Authority emphasize that the device is non-invasive and completely safe.
Don't Miss
The Port Authority's news release explains that all PATH passengers are subject to the pilot security screening, and passengers who do not want take part must leave the station.
The TSA has partnered with agencies in various cities in the past to test out the same security screening system, including in 2007 at Washington's Union Station and on New York's Staten Island Ferry.
The TSA has also tested the system at several U.S. airports including Minneapolis-St. Paul, Minnesota; Denver, Colorado; and Boston, Massachusetts.

E-mail to a friend

All About Port Authority of New York and New Jersey • Transportation Security