By Bill Mears
CNN Supreme Court Producer





WASHINGTON (CNN) -- The U.S. Supreme Court on Monday is expected to decide whether a group of shareholders could continue attempts to block Chrysler LLC's sale of top assets to Italian automaker Fiat.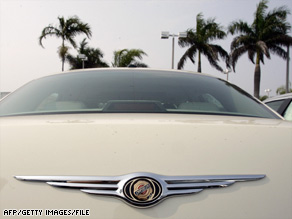 Three Indiana pension funds are trying to block Chrysler's sale of assets to Fiat.
A pending stay is slated to expire at 4 p.m. Monday.
Three Indiana state funds, representing police officers and teachers, filed an emergency appeal late Saturday asking the high court to intervene. Those investors seek greater compensation for their share of Chrysler's nearly $7 billion in secured debt.
The time-sensitive appeal is before Justice Ruth Bader Ginsburg. She has the option of deciding the matter herself or asking the entire nine-member court to rule. A decision will likely be made by Monday morning. If the justices refuse to intervene, Chrysler and Fiat are free to close the deal immediately.
Last week, a federal appeals court in New York, as well as a bankruptcy judge, approved the sale.
Chrysler is expected to emerge soon from bankruptcy, and the company is pinning its future on the restructuring plan pushed by the White House.
Lawyers for the Indiana pension funds told the Supreme Court that the Obama administration improperly used money from a federal bailout to help Chrysler. That money was designed, they say, to only help struggling financial institutions.
"The negative economic consequences of permitting an unlawful sale to proceed may well over time dramatically outweigh Chrysler's short-term harm," the group said in its brief Sunday. The funds hold about $42 million, or less than 1 percent, of Chrysler's debt.
Indiana Treasurer Richard Mourdock said the pension funds are secured creditors and therefore deserve a place at the table.
Both Chrysler and the federal government say the sale to the Italian automaker must be completed quickly to ensure domestic jobs are not lost, and to keep Chrysler financially afloat for the long term.
Under the terms reached by both sides, Fiat can walk away from the sale if no deal is reached by June 15. The new company will be owned jointly by the federal government, an autoworkers union retiree fund and Fiat.
Chrysler has been trying to leave behind its debt as part of the Chapter 11 process, which would wipe out part of the pension fund's holdings. It filed for bankruptcy on April 30. Chrysler's asset sale was approved just hours before the bankruptcy filing of General Motors on June 1.

E-mail to a friend

All About U.S. Supreme Court • Chrysler LLC • Indiana