By Jessica Ravitz
CNN





(CNN) -- From where he came, no one could have predicted what Ronald Takaki would become. Raised in a low-income area of Oahu, Hawaii, a descendant of Japanese immigrants who toiled in sugar cane plantation fields, he cared more about surfing than schoolwork.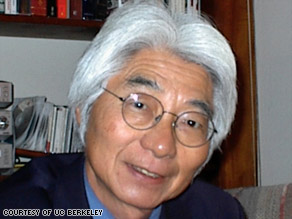 Ronald Takaki was a legend in the field of ethnic studies and helped change how American history is written.
But the boy who earned the nickname "10-toes Takaki," a reference to when surfers hang 10 toes over the front of a long board, went on to become a legendary ethnic studies scholar.
The pioneering and beloved professor of more than 30 years at University of California, Berkeley, and prolific author who helped change how American history is written, died on May 26.
Takaki, who had boundless energy, took his own life after battling multiple sclerosis for 15 years, his son, Troy, said. He was 70.
The crushing fatigue and loss of mobility were "very hard on him," said Troy, one of Takaki's three children. "For good or bad, he was not someone who could sit around and watch 'Oprah' all day."
Takaki, rather, was someone who blazed trails. He attended the College of Wooster in Ohio, the first in his family to seek a higher education. His father died when Takaki was young, and his mother left school after the eighth grade.
In the 1960s, he earned a master's and doctorate in history from UC Berkeley, where he wrote a dissertation on slavery in America. It was during this period that he "was born intellectually and politically," he told the San Francisco Chronicle in 2003, the year of his retirement.
And it was then that his activist spirit was born. Later, he'd fight against Proposition 209, a 1996 measure in California -- that passed -- to prohibit affirmative action in public institutions.
He taught, in the aftermath of the violent Watts riots, the first black-history course at UCLA, where he was a "socialist" amid his conservative department peers, his son said. Later, at UC Berkeley, he helped create the nation's first doctorate program in comparative ethnic studies and institute a required undergraduate course on American cultures, a class in diversity education.
"He was able to transcend his own ethnic identity," said Roberto Haro, a close friend, running partner and colleague of more than 30 years. Takaki knew "what was necessary for this country to be bound together," and that people of different backgrounds would have to "learn to work together and overcome their differences."
His many books challenged stereotypes, gave voice to those who hadn't been heard and were written in a way that bucked the dry academic tradition.
Takaki used metaphors from literature, lyrics, short stories and other creative tools to connect the reader to the subjects, colleagues said.
"He was part of this movement in history in the last 30 years to broaden the sources one uses -- to capture a social history," said Don Nakanishi, director of UCLA's Asian American Studies Center. "He really popularized this broader way of connecting experiences."
Among his noted books are "Iron Cages: Race and Culture in 19th-Century America," "Strangers from a Different Shore: A History of Asian Americans," and "A Different Mirror: A History of Multicultural America."
But he connected with people beyond his written words. Longtime friend Haro said Takaki used humor to disarm and find common-ground with adversaries and the "Socratic method" to engage students.

Haro said Takaki would ask the students who packed his classes," 'Why do you suppose this happened?' "
"Instead of being taught at, they were encouraged to think," said Haro.
And his work in and outside the classroom had a lasting impact. Former students, or those who'd simply read his books, were forever stopping him on the street, Haro said.
His academic accomplishments and reputation, the sort of which earned him lifetime achievement and teaching awards, made Takaki a popular guest speaker and commentator. But none of this ever stopped him from appreciating the simple and less heady things in life.
Troy, his son, spoke of his father's wonderful laugh, his love for the ocean, his adoration of his seven grandchildren, as well as his appreciation of books of the less high-brow variety.
"He would crack himself up reading 'Everybody Poops' and 'Walter the Farting Dog,' " said Troy, a father of two who lives in Venice, California. "He was a tremendous dad -- such a happy, energetic person."
In addition to Troy and his seven grandchildren, Takaki is survived by his wife, Carol Rankin; another son, Todd, of El Cerrito, California; his daughter, Dana, of Chester, Connecticut; his brother, Michael Young, of Thousand Oaks, California; and his sister, Janet Wong, of Chatsworth, California.
A memorial at UC Berkeley is being planned for early September.
E-mail to a friend