By Jeanne Meserve and Carol Cratty
CNN





HARDIN, Montana (CNN) -- The tiny town of Hardin, Montana, is offering an answer to a very thorny question: Where should the nation put terror detainees if the prison at Guantanamo Bay, Cuba, is shut down by the end of the year as President Obama has pledged?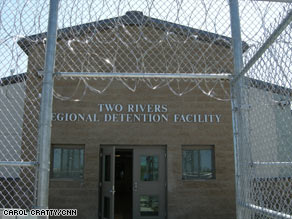 Hardin, Montana, says the Two Rivers Regional Detention Facility should be used for Gitmo detainees.
Hardin, population 3,400, sits in the southeast corner of Montana, in the state's poorest county. Its small downtown is almost deserted at midday. The Dollar Store is going out of business. The Hardin Mini Mall is already shut. The town needs jobs -- and fast.
Hardin borrowed $27 million through bonds to build the Two Rivers Regional Correctional Facility in hopes of creating new employment opportunities. The jail was ready for prisoners two years ago, but has yet to house a single prisoner.
People here say politics in the capital of Helena has kept it empty. But the city council last month voted 5-0 to back a proposal to bring Gitmo detainees -- some of the most hardened terrorists in the world -- to the facility.

Watch town's fight to be Gitmo West »
"It would bring jobs. Believe it or not, it would even bring hope and opportunity," Greg Smith, Hardin's economic development director, told CNN.
But a decision on whether it becomes a reality is a long way off. The state's congressional leaders have lined up against the plan. "Housing potential terrorists in Montana is not good for our state," Max Baucus, the state's senior Democratic senator, wrote to Smith. "These people stop at nothing. Their primary goal in life, and death, is to destroy America."
Adds Sen. Jon Tester, "I just don't think it's appropriate, that's all. I don't think they know what they're asking for."
On North Central Avenue in downtown Hardin, opinion is mixed.

See where Hardin is located »
Darlene McMillen says if the detainees move in, she is moving out. A part-time waitress at a Hardin restaurant, McMillen says her opinion is based on her son's experiences serving in the military in Afghanistan. "He said the people have no respect for any human life, even their own."
Don't Miss
Manicurist Donovan Lindsay says bringing the detainees to Hardin would bring more law enforcement, and that would make the town safer. She also believes it would generate jobs . "We are the poorest county in the state of Montana and we need all the help we can get," she says.
The 464-bed facility is state of the the art. Yet scores of surveillance cameras aren't powered up. A magnetometer near the front door isn't even plugged in. It's simply waiting for its intended use.
Bright orange prison jump suits emblazoned with the words "Two Rivers" are stacked in a storage room along with shoes, towels, blankets, even razors and underwear, for prisoners. Another room contains riot helmets, gas masks, batons, shields, and guns for guards. Greg Smith says, "We got rooms full of this stuff. It just sits there ready to go."
The prison has single, double, and dorm-style cells, but Smith says it could be modified to keep detainees separated from one another. He says because only terror detainees would be housed here, it would eliminate any risk that they would radicalize others. He also says the facility could accommodate special dietary and religious needs.
Inside the facility, he motions around a large dormitory-style room filled with empty bunk beds. "It's big enough you probably could build a mosque in one of these," Smith says.
Although the facility was intended to be used as a medium-security prison, Smith says it meets maximum-security criteria. Smith, a military veteran, doesn't have corrections experience, but challenges anyone who doubts the security at Two Rivers.
He says he'd be glad to lock the doubters up to test it. "We will give them three days and I'll buy the coffee in the coffee shop if they can get out. I'd be happy."
Glyn Perkins agrees on that score. He worked for eight years in maximum security prisons in Texas and says Two Rivers is the most secure facility he has ever been in.
Perkins and his wife, Rae, moved to Hardin to take jobs at Two Rivers, but they got laid off earlier this year because there still were no prisoners. Although holding Gitmo detainees here might mean they would get their jobs back, they don't want to see it happen.
Despite their confidence in the security of the prison, they worry about the community and their three children. "I don't agree with it because it is five blocks from city hall," says Glyn Perkins.
His wife chimes in, "Yeah, and 11 blocks from the school, and to me that is just a little scary."
"Bottom line," she said, "I really don't want Gitmo in my backyard."
If the federal government were to move detainees here, it would decide who would run the prison and how it would be staffed. The Perkinses are skeptical that the federal government would offer many jobs to the people of Hardin. Rae Perkins doesn't think very many of the city's unemployed would be qualified. "I haven't met anyone in Hardin that speaks Arabic," she said.
But Greg Smith thinks the prison would generate business for gas stations, restaurants, and other local enterprises, giving the entire region an economic boost. And, he says, it would benefit the country.
If Obama closes Guantanamo in January as pledged, Smith maintains Hardin would be a safe place to keep the detainees that nobody else wants.
Obama last week defended his plan to shutter the military detention center at Guantanamo, saying it has become a "rallying cry for our enemies." The Senate and House have both passed measures that would prevent the detainees from being transferred to the United States.
Smith voices disdain for members of Congress who supported closing Guantanamo but now oppose putting its prisoners in the U.S.

"All of the senators are running for the hills, and all of the representatives. So we really are nowhere except we've got a town that says, 'We have the place and we have the will.' "
He is waiting for Washington to call.
E-mail to a friend

CNN's Ted Barrett contributed to this report.
All About Guantanamo Bay • Barack Obama