By Bob Greene
CNN Contributor





Editor's note: CNN contributor Bob Greene is a best-selling author whose current book is "When We Get to Surf City: A Journey Through America in Pursuit of Rock and Roll, Friendship, and Dreams."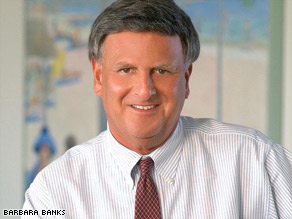 Bob Greene says much has been accomplished in the lazy days of summer.
(CNN) -- Memorial Day weekend has arrived: the symbolic, if not the official, beginning of summer.
And with the onset of summer has always come permission for us to be lazy, to relax, to put ambition away until autumn.
There's a certain ambivalence about that this year -- the nation's economic turmoil has made people wary of taking days off, never mind long vacations.
The lure of summer is eternal, however. After all, even in bad times, everyone slows their lives down in summer, right? No one is toiling to move past us.
(Well. . .on June 24, 1901, Pablo Picasso did open the first exhibit of his work.)
(And on July 2, 1962, Sam Walton did open his first Wal-Mart store.)
But, really, if we allow ourselves to let up a little, what is there for us to worry about? Summer has always meant that competition is put on hold.
(On July 4, 1934, Joe Louis fought and won his first professional boxing match.)
(On June 30, 1936, Margaret Mitchell published "Gone With the Wind.")
The months ahead are a time for the hammock, the beach, the backyard patio.
(On July 22, 1933, Wiley Post became the first person to fly solo around the world.)
(On August 8, 1876, Thomas Edison received his patent for the mimeograph machine.)
(On August 13, 1913, Harry Brearley invented stainless steel.)
Don't Miss
The nicest thing about summer has always been that it's the one time of the year when we don't have to feel guilty about doing nothing. That's the whole purpose of summer: to allow us to blithely do nothing at all, to exhale, to recharge.
(On June 30, 1953, assembly line workers at General Motors rolled off the first Corvette.)
(On August 6, 1926, Gertrude Ederle became the first woman to swim the English Channel.)
(On August 20, 1882, Tchaikovsky debuted his "1812 Overture.")
In summer, we don't have to fret over the absence of creative juices. We're not supposed to come up with great ideas; the heat bakes that impulse out of us.
(On July 5, 1954, Elvis Presley walked into Sun Studio in Memphis, Tennessee, and made his first commercial recording, "That's All Right, Mama.")
(On August 17, 1807, Robert Fulton inaugurated the world's first commercial steamboat service on the Hudson River.)
(On, August 24, 1853, in a kitchen near Saratoga Springs, New York, George Crum invented the potato chip.)
We can walk out the door, feel the sun's searing blast, and hurry back into the air conditioning, sublimely pleased to be putting off until another day what we had every intention of getting done today.
(On July 27, 1866, workers in Trinity Bay, Newfoundland, completed the laying of the first long-lasting trans-Atlantic cable.)
(On August 5, 1914, on a street corner in Cleveland, Ohio, a labor crew installed the first known electrical traffic-light system.)
(On August 9, 1173, a construction gang in Italy began erecting the Tower of Pisa. Granted, it wasn't supposed to lean.)
Summer? Calm down. It's summer for our business rivals, too. Just like us, they're idling in low gear.
(On August 21, 1888, William Seward Burroughs patented the adding machine.)
(On July 12, 1960, the Ohio Art Company manufactured the first Etch A Sketch.)
Whatever grand plans we have can wait -- summer is not the time for initiating vast and complex projects.
(On August 3, 1492, Christopher Columbus set sail from Spain.)
(On July 17, 1955, Walt Disney opened Disneyland.)
Summer, by its very nature, is meant for slothfulness.
(On August 25, 1944, Allied military forces liberated Paris, France, from Nazi occupation.)
(On July 20, 1969, two Americans became the first humans to walk on the moon.)
So put your tensions in storage until September. Take a deep breath. Summer is on its way.
Who could possibly be working to get ahead of you?
The opinions expressed in this commentary are solely those of Bob Greene.
E-mail to a friend

All About Outdoor Recreation • Elvis Presley • Thomas Edison • Manned Space Flight