By Sara Lane
CNN





GREENACRES, Florida (CNN) -- Last summer, Maria Calderon was so overwhelmed by credit card debt, she couldn't sleep. She owed $21,000 on nine cards with interest rates as high as 29.99 percent.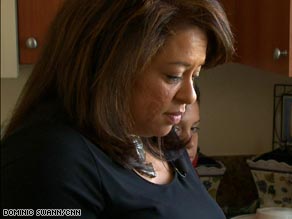 Maria Calderon owed $21,000 on nine credit cards with interest rates as high as 29.99 percent.
"Nights crying, thinking, I say, 'God, help me,' " Calderon recalls. "And now I can say thank you."
Calderon found help at the Consumer Credit Counseling Service of Palm Beach County -- a nonprofit agency that counsels people in financial trouble.
Her counselor negotiated lower interest rates with creditors and put Calderon on a repayment plan.
"This plan helps her get control of her debt so that she can repay her debt within 36 to 48 months, three to four years," says Jessica Cecere, president of the Palm Beach County CCCS.
"What that did for Maria was, we negotiate and have agreements with many of the credit card companies that lower interest, late fees, and there's a plan in place for her to get out of debt."
It's something Calderon -- a single mother raising two children -- couldn't do on her own.
Calderon said she tried to talk with credit card companies directly, but they wouldn't reduce her interest rates. They told her to keep paying -- that they couldn't help now, but maybe could help later if her balances dropped.
Before getting help, Calderon says she was paying between $800 and $900 each month toward her debt. With the new repayment plan and lower interest rates, her total monthly payment dropped to $550.

Watch Calderon talk about she tackled her debt »
Don't Miss
Such payments go directly to CCCS, which takes a $35 fee and distributes the rest to creditors. The monthly fee pays for her participation in the debt repayment program, though her initial counseling appointments at CCCS were free.
Credit advisers say choose your counseling program carefully.
"Credit counseling agencies can be a real solution for people who have large financial problems," says Steve Bucci, author of "The Credit Repair Kit for Dummies."
Bucci says to look at three criteria when choosing a reputable agency: "Are they nonprofit? If they are nonprofit, are they certified by an outside agency? And also, are their counselors accredited?"
Cecere says her agency is seeing triple the number of clients counseled last year. Many are placed on debt repayment plans and counseled on reducing expenses.
She says paying off debt is similar to dieting. "It's very much like a strict diet or a strict plan. This is what you have to do in order to make this work for you. If you don't, it won't work. So, it depends how important this is to you," Cecere said.

Calderon said most of the money she spent on credit cards went to food, medicine and other daily necessities. When CNN spoke to her in February, she said getting out of debt was very important to her, and that she hoped to buy a house and help her children through college once she paid off the cards.
Since then, however, CNN learned that Calderon has run into more financial trouble. She paid her debts faithfully for eight months, but CCCS told CNN that due to circumstances beyond her control, Calderon's income has been reduced, and she is unable to continue making her payments.
E-mail to a friend

CNN's John Zarrella contributed to this report.
All About Credit Card Debt • Consumer Credit and Debt • Debt Consolidation