By Jim Kavanagh
CNN






CLAXTON, Georgia (CNN) -- Chrysler LLC's decision last week to close nearly 800 dealerships may just be business, but for the people who work and trade in those showrooms and service bays, it's personal.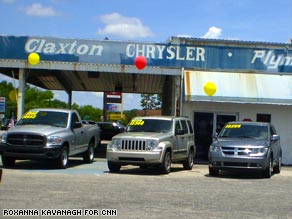 Claxton Chrysler Dodge Jeep is at the literal and figurative heart of Claxton, Georgia.
"They're not terminating a building or a franchise, they're terminating people that need jobs. And it's not right. It's just not right," said Daniel Womack, owner of Claxton Chrysler Dodge Jeep in tiny Claxton, Georgia.
Womack received a hand-delivered letter from Chrysler on Thursday.
"When I got to 'We regret ...' I stopped," Womack said. The bankrupt automaker was terminating its agreement with Claxton, the only Chrysler dealer within 25 miles, and a profitable one at that.
"It was like standing out in the road and having a bus run over the top of us," he said.
The agreement ends June 9, but the effect is already being felt. All of the dealer's major lending banks called and said they would no longer work with Claxton, general manager Doug Shontz said.

Watch the owner's heart break for his employees »
"Since the thing happened, we haven't had a soul in here for service," he said. "We haven't turned one wrench. We have nothing for next week. When they brought that list out, that was the kiss of death."
The dealership, its employees and their customers are intertwined like dashboard wires.
"There's only 11 of us here, but we're family," said Shontz, who just started there in December. "We all know each other, we see each other every day. I spend more time with this group here than I do with my own family."
Townsfolk tend to wander in off the street, just to shoot the breeze over a cup of coffee.
Take Gary Sapp, for example. The military veteran, wounded in Vietnam, stopped in Saturday, as he does just about every day, to say hello and maybe talk about cars a little bit. He said he might come back Monday and make a deal, just as he's done there three times in the past 10 years.
But it's not really about the cars and pickup trucks.
"These are good folks here," Sapp said.
Claxton, a town of about 2,300 hard by the Canoochee River about 50 miles west of Savannah in southern Georgia, is famous for its namesake fruitcakes, which are sold with pride at Mrs. Rogers' Restaurant and seemingly half the other businesses in town.
On East Main Street, a whitewashed brick building still bears an S&H Green Stamps sign and Stella's Phase III serves up $6.95 mountains of soul food, which you can top off with a slice of fluffy sweet potato pie for $1.25. A couple of blocks away, across from the Krispy Chic, a jolly white-haired man sells baseball-sized tomatoes and boiled peanuts out of the back of a pickup under a rainbow-colored umbrella.
At opposite ends of Duval Street are a prison surrounded by high fences topped with coils of razor wire and the new elementary school with its gleaming blue metal roof.
At the center of it all, literally and figuratively, is Claxton Chrysler Dodge, sporting colorful helium-filled balloons and blue paint bleached pale by the scorching Southern sun.
"We've been on this corner for 40 years," Shontz said inside his small office, looking out toward Duval Street. "We could stand out there and have 50 or 60 people wave at us before the day is out that know us -- 'Hey man! How y'all doin'? Hang in there!' "
In a small town, everybody knows you and knows what you're up to, Shontz said.
"Everybody goes by here. I don't care who you are, everybody goes by here at least once a day," he said.
And people in Claxton know whom they can count on for help with their causes and events and fundraisers. Over the years, Claxton Chrysler has sponsored Little League baseball and Pee Wee football, supported beauty pageants and donated to local charities, Shontz said.
"We've bought more chicken dinners, and junk, and stuff ... rodeos ... parades ... there's always something," Womack said with a chuckle. "Everything's a big deal here."
"I've never seen so many 'Misses,' " Shontz added as they both laughed the kind of laugh you hear toward the end of the third day at the funeral home.
Chrysler LLC doesn't understand its market, said loyal customer Jerry Akins, 64, who has bought three vehicles from Claxton Chrysler.
"How the hell they gon' sell to those people in small towns?" he said. "They're a different breed. They're not gonna go no damn hundred miles to buy a car."
Akins' loyalty extends to his sons, both of whom have bought cars from Claxton Chrysler. But that's not unusual around here. Salesman Paul Michel said he's sold 11 vehicles to one family since December 2005.
"That's that generational thing I was talking about," Shontz said.

Watch what happened to Michigan's oldest Dodge dealer »
Womack intends to stay in business as a used car dealer after the agreement with Chrysler ends June 9, but it will be a very different operation. With no warranty work, the service and parts departments will be closed, Shontz said.
"I just hired a new parts guy three weeks ago," he said. "He left a great job to come here. And now I told him I'm probably going to have to let him go. Great guy, real smart, knows Chrysler like the back of his hand. And I feel bad that I've put him in that kind of predicament."
Almost as an afterthought, Shontz mentioned that he'll probably lose his own job, as will 800 of his counterparts across the corporation.
"There's going to be a lot of me's out there looking for work. General managers will be a dime a dozen."

The change will have a ripple effect on other businesses, Shontz said. The dealer's subcontractors who handle body work, upholstery, dings, glass, used tires, scrap metal and signs all are losing a significant customer, he said.
"It's just a cryin' damn shame, is what it is," he said.
E-mail to a friend

All About Chrysler LLC • Culture and Lifestyle • Georgia