(CNN) -- Olympic gold medalist Michael Phelps suffered his first defeat in a championship race in a year when he lost the 100-meter backstroke to world-record holder Aaron Peirsol at the Charlotte UltraSwim in North Carolina.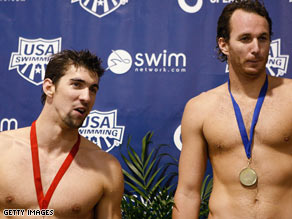 Michael Phelps stands on the podium with Aaron Peirsol after the men's 100m backstroke final Saturday.
On Saturday, Peirsol led at the turn and pulled away to win the 100-meter backstroke in 53.32 seconds. Phelps came in second, at 53.79.
The last time Phelps lost was on May 17, 2008 -- also to Peirsol -- in the 200-meter backstroke at Santa Clara, California.
The Charlotte meet, which began Thursday, ends Sunday. It is one of several leading to the 2012 Olympics in London, England.
Phelps won the 200-meter freestyle and the 100-meter butterfly titles Friday. He competes in the 100-meter freestyle Sunday.
The competition is Phelps' first meet since the 2008 Olympic Games in Beijing, China, where he won a record eight gold medals.
His return to the pool follows a three-month suspension from organized competitive swimming after a photo surfaced in February showing him holding a bong, a device commonly used to smoke marijuana.
Before the meet, Phelps said he was looking forward to the competition after completing his suspension.

Watch Phelps talk about his return »
Speaking to reporters, Phelps reiterated what he said was his "bad judgment" and a "very stupid mistake."

Watch Phelps discuss being wary of his surroundings »
He had admitted "regrettable behavior" before, just after the tabloid News of the World showed him with a bong during what it said was a November party at the University of South Carolina in Columbia.
South Carolina authorities investigated Phelps and said he will not face criminal charges in connection with the party.
"We had a photo, and we had him saying he was sorry for his inappropriate behavior," Richland County Sheriff Leon Lott said earlier this year.

"That behavior could have been going to a party. ... He never said, 'I smoked marijuana.' He never confessed to that. We didn't have physical evidence. We didn't have enough where we could go arrest him."
USA Swimming, the nation's governing body for competitive swimming, suspended him for three months, withdrew financial support and barred him from competition during the period of his "reprimand."
E-mail to a friend

All About Michael Phelps