By Kevin Bohn
CNN





WASHINGTON (CNN) -- Although the National Rifle Association may not have seen the results it wanted from last year's elections, its fortunes this year are anything but dim.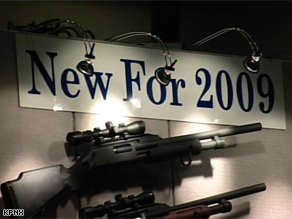 Thousands of gun-rights advocates gather this weekend in Phoenix, Arizona, for the NRA convention.
At its annual convention this weekend, such leaders as Republican National Committee Chairman Michael Steele, former presidential nominee Sen. John McCain of Arizona and former presidential hopeful Mitt Romney are speaking to 60,000-plus gun-rights advocates gathered in Phoenix, Arizona. Even Democratic Sen. Max Baucus of Montana is addressing the convention in a recorded message.
"Whenever they can, wherever they can, the Democrats want to take away the rights of law abiding citizens to own and purchase a gun, a right that is guaranteed under the United States Constitution," Steele said to attendees, according to excerpts released by the Republican National Committee.
"No constitutional protection is more often ignored, distorted or disdained than the individual right to keep and bear arms," Romney will say, according to draft remarks released by his political operation.
Despite solid majorities in the House and Senate and control of the White House, there has not been any push by Democratic leaders to pass major gun control legislation this year.
But gun rights advocates say they are afraid of what President Obama and his Democratic colleagues may do.
"Given his past record before he announced for president, I think people are suspicious of what the Obama administration might do," NRA Executive Vice President Wayne LaPierre said.
When Attorney General Eric Holder mentioned in February the possibility of reinstating a ban on assault weapons, there was an instant backlash from congressional Democrats, and the White House made it known that the move was not something that was going to be pursued right now.
At a House Judiciary Committee hearing Thursday, Rep. Mike Quigley, D-Illinois, pushed Holder to renew the ban. The attorney general was noncommittal.
"We want to share information," Holder said. "We want to enforce the laws that we have on the books. I think there are a whole variety of ways in which we can get at the problem of gun violence, and we are determined to do that, in conjunction with our partners and in conjunction with members of Congress."
During the campaign, Obama supported restricting the sale of assault weapons.
Gun-control proponents, who had hoped to see the president pursue their agenda, are still waiting.
"We want the president to show greater leadership on guns," said Dennis Henigan, vice president of the Brady Campaign to Prevent Gun Violence. "There is no question about that. We believe the president knows the right policies to push. We believe, however, that this overarching and irrational fear of the NRA that has gripped so many in Congress has also to some extent influenced the White House. The American people ... are going to say at some point, 'Who is running the show here? Are we running the show, or is it this special-interest gun lobby?' "
This week, 21 Senate Democrats voted in favor of allowing people to carry loaded guns in national parks.
A recent CNN/Opinion Research Corp. poll finds that fewer Americans are in favor of stricter gun laws than just two years ago. Thirty-nine percent now favor stronger measures, but in 2007, 50 percent did.
This comes against the backdrop of a large increase in sales of guns and ammunition since the fall, an increase that dealers say grew even larger around the time of the inauguration.
The number of background checks conducted on gun purchasers each month rose from the previous year, topping a million beginning in October, FBI statistics show. In April, there were 1,225,980 requests, an increase of almost 400,000 over the same period last year.
Gun stores and the NRA are both benefiting from the concern that gun rights will be sharply curtailed. NRA officials said thousands more are joining each month, and its membership is now about 4 million.
"We have grown by hundreds of thousands of members, and that is because the American public wants their freedoms protected," LaPierre said. "They see threats out there. They see statements made from the attorney general, from [Democratic Sen.] Dianne Feinstein and other people. They say, 'I'm ready to defend my freedom, and one thing I'm going to do is join the NRA.' "
But political experts say a packed legislative agenda and strong support for the Second Amendment from a group of more conservative congressional Democrats adds up to slim odds of passing major gun control legislation.
"Democrats are very reluctant to wade into this, knowing from past experience ... it is potentially a difficult one in political terms," said Norman Ornstein, an expert in congressional issues at the American Enterprise Institute.
Some Democrats blame the loss of the House in 1994 and the White House in 2000 on the gun issue.
Ornstein added that there is not "much appetite from congressional leaders to push this higher on the agenda."
E-mail to a friend

All About National Rifle Association • Barack Obama