Editor's note: CNN affiliates report on where job seekers are finding work across the country and how those looking for employment are coping with the situation.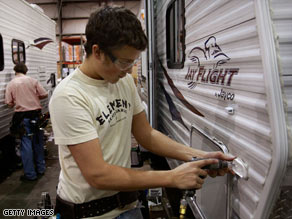 Workers at the Jayco plant in Elkhart County in Indiana put together a travel trailer in February.
(CNN) -- Elkhart, Indiana, has suffered through a litany of economic bad news and layoffs.
The United States Department of Labor said that in March, the Elkhart metropolitan area had the fifth highest unemployment in the country.
Just last year the Monaco Coach Corp. closed down its motor home assembly plants in Elkhart, Nappanee and Wakarusa.
But Electric Motors Corp., which builds engines, cars and trucks, is moving into Elkhart County and bringing hundreds of jobs.
"Their production working skills will be a little bit different than RV workers, but not that much different. We'll easily be able to train the workers," County Commissioner Mike Yoder told WSJV.
Neither the company nor government officials would comment on how many jobs could potentially be created.
"It's good to get a small number just to build up and hopefully it'll keep coming," said college student Erika Miller, who is looking for summer work. Read the full report on WSJV
South: Famed New Orleans hotel closed after Katrina hiring hundreds
The Roosevelt Hotel in New Orleans, Louisiana, is almost ready to reopen after being shuttered after Hurricane Katrina struck in 2005. After undergoing a $145 million renovation, the hotel will be staffed by 400 employees.
Don't Miss
This past week, more than 5,000 job seekers came to a job fair at the downtown landmark. Some of the people hired will begin in a few weeks, while others will start later.
"We are looking to make some additional hires in September and in October when business picks up," Roosevelt employee Melissa Kariker told WDSU.
One applicant at the fair had worked previously at the hotel.
"I started my career with the Fairmont-Roosevelt," Gregory Smith said. "I worked in the Blue Room for several years." Read the report on WDSU
Midwest: Newspaper giving away space for 'Hire me' ads
The New Herald newspaper of Cleveland, Ohio, will publish "Hire me" ads in its Sunday editions and on its Web site.
There is no cost for job seekers, but the offer applies only to this Sunday's paper.
"It's actually something our publisher suggested that they did back in the '70s at the height of unemployment that he had worked at that time," executive editor Tricia Ambrose told WEWS.
The Web site will also post video resumes. Read the report on WEWS
West: Solar panel plant to hire 300
Schott Solar, which makes photovoltaic solar panels, opened a plant in Albuquerque, New Mexico, this week, bringing 350 jobs.
Officials with the company told KRQE the number of employees could grow to more than 1,500.
A plant manager said the company provides its own funding and has not been hurt much during the recession, KRQE reported.
Officials from the California-based company said they chose New Mexico in part because of the amount of sunshine it receives. Watch the full report on KRQE
Around the nation
General Mills will hire 112 people when it builds a distribution center in Social Circle, Georgia, WGCL in Atlanta reports. ... In Richland, Washington, federal stimulus money is being used to pay for environmental cleanup, KREM reports. ... Target and Lowe's stores are scheduled to open in Greenland, New Hampshire, this summer, bringing 400 jobs to the town, WMUR reports.
E-mail to a friend

All About Unemployment Rate • Job Searching